Family historian, Amy Sell takes a look at how finding your ancestors in the historical newspapers can significantly alter our understanding of their world.
It's fair to say that I'm slightly addicted to the historical British and Irish newspapers you can search at Findmypast. If you're yet to discover their charms, you really are missing out. Newspapers can provide an incredible amount of detail about the lives of your ancestors, much more than other family history records can.
Bring Your Family's Story to Life
Your ancestor didn't have to be an infamous criminal or big screen star to make the headlines. Local newspapers often included birth, marriage and death announcements, inquests and obituaries about local people and court reports. They recorded the lives of ordinary people: our ancestors.

The articles I've found have helped me understand who my ancestors were, adding substance to the names and dates in my family tree. For instance, the following report appeared in the Cambridge Independent Press in 1864. It concerned the death of my great-great-great-grandfather's first wife.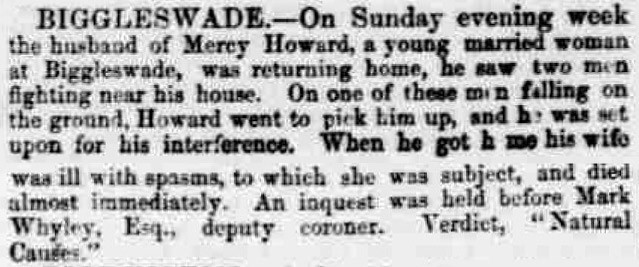 © THE BRITISH LIBRARY BOARD. ALL RIGHTS RESERVED
While I already knew the year of Mercy Howard's death, this article provided me with the exact date and the cause of death. It also gave some fascinating detail about my great-great-great-grandfather's life.
The article reports that Richard Howard saw two men fighting on his way home. He went to help, but 'was set upon for his interference'. This obviously isn't key biographical information, but has helped to build an idea of the sort of person Richard was and what it was like to live in the Victorian era.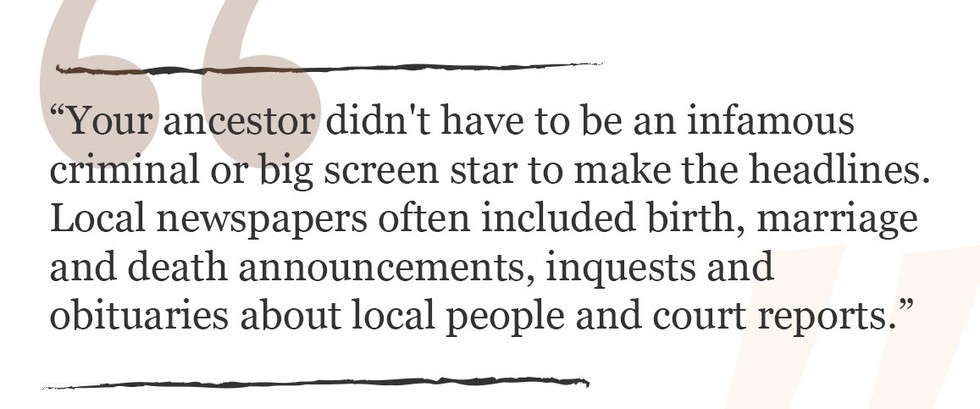 New Information for Your Family Tree

Richard Howard's name appeared in another article a few years later. This time, the newspaper provided information that allowed me to add a very important fact to my family tree: Richard's father's name.
The snippets below come from a court report that was published in the Herts Guardian in 1867. They reveal that my ancestor was charged with stealing a watch and chain and that his father had been called as a witness to his character.

© THE BRITISH LIBRARY BOARD. ALL RIGHTS RESERVED

© THE BRITISH LIBRARY BOARD. ALL RIGHTS RESERVED
Thanks to this newspaper article, I was able to add James Howard to my family tree. James's own words are recorded, informing me that his son had 'worked for all the gentry' as a chimney sweep in Biggleswade.
I would really recommend searching the newspapers for a few of your ancestors' names. They can add a lot of colour to what you already know about your family history. Oh, and in case you were wondering, Richard Howard was found Not Guilty – though this apparently 'caused much surprise in court'!

© THE BRITISH LIBRARY BOARD. ALL RIGHTS RESERVED
Not Yet a Member? Don't Worry...