Ripper Series Part 4: Did medium Robert James Lees assist the police in a secret arrest of the Ripper?
Rumours and theories about the identity of the notorious Victorian murderer Jack the Ripper have been whispered, shouted, and otherwise bandied about ever since his grisly reign of terror nearly 130 years ago in London's Whitechapel.
While the truth has never been conclusively revealed, the investigation is by no means over. In our exclusive series, findmypast explores the history surrounding the Ripper's iconic legacy.
Robert James Lees was a spiritualist, medium, preacher, writer and healer, known today for claims that he used his psychic abilities to help Scotland Yard secretly arrest of Jack the Ripper.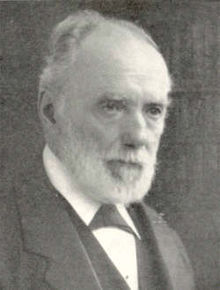 Robert James Lees
Birth records show that Lees was born in Hinckley, Leicestershire in 1849 to William Lingham Lees, a baker and grocer, and his wife Elizabeth. Census records indicate that he grew up alongside an older brother, also named William, and two sisters named Elizabeth and Sarah at a house in Bond Street, Hinckley, until the family moved to Birmingham some time before 1871.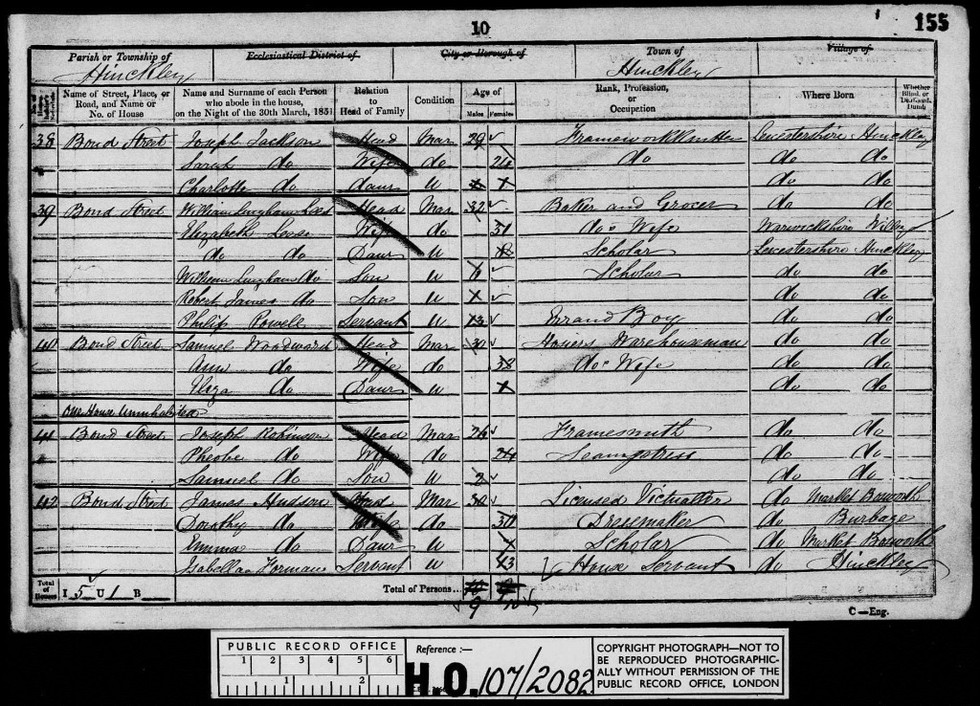 The Lees family in the 1851 census
In adulthood, Lees became heavily involved in world of Spiritualism. He claimed to have been receiving messages from the spirit world since he was a small child and some believe that as a boy, he acted as a medium for Queen Victoria. An article from a 1948 edition of The Essex Newsman claims that "soon after the death of the Prince Consort in 1861, while the Lees family were having a private sitting in their own home, Lees was controlled by a man from the spirit world who gave the name of Albert, the Prince Consort."
Word of Lees channelling the spirit of the dead Prince eventually reached the queen who sent two members of the court to investigate. As soon as their sitting with the young Robert began, they "were greeted by the Consort by their real names" who then gave them "correctly the highest Masonic handshake". Utterly convinced, the two officials returned to the Queen with their findings who then sent for Lees. Lees allegedly performed a number of séances for the mourning Queen who requested he reside permanently at the palace before Albert's spirit conveniently recommended John Brown as a replacement host.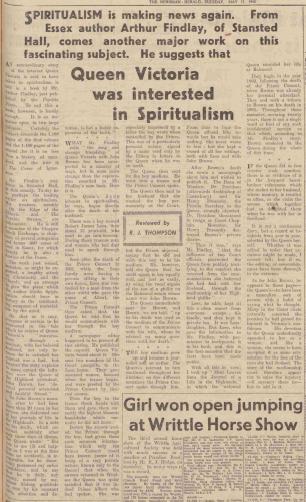 Essex Newsman - Tuesday 11 May 1948
Lees married Sarah Ann Bishop in 1871 and began working as a journalist for the Manchester Guardian. In 1878 Lees moved his family to London and began writing for a number of Fleet Street publications, during which time he befriended the pioneering investigative journalist W.T. Stead.
In 1888, at the height of the "autumn of terror", Lees offered his services as a medium to both the City of London Police and Scotland Yard to assist in their capture of Jack the Ripper. Scotland Yard had already received a number of unusual offers and been presented with a variety of outlandish theories and Lees was simply dismissed as just another eccentric.
However, a number of stories have circulated suggesting that Lees did use his psychic abilities to assist the police in their hunt for Jack. On April 29th 1895 a report was published in the Indianapolis Sun that told how how the "noted Clairvoyant ran down Jack the ripper" and "saw the crimes although far from their enactment". This sensational article even claimed that the Police actually apprehended the killer, a doctor who was "removed to a private asylum, and by agreement was reported dead". The article also alleged that the Ripper was safely behind bars, "now a furious maniac simply known as "Tomas Mason" or "No. 124".
The article claimed that over a number of years Lees had been troubled by graphic psychic visions of Jack the Ripper killing his victims. He and his wife were travelling on an omnibus when a man wearing a light overcoat got on. As soon as Lees saw the man's face he turned to his wife and muttered "that is Jack the Ripper". The man alighted at Oxford Street and Lees attempted to follow him on foot until he was spotted and the man hailed a cab and vanished. Lees reported this to the police but was again dismissed as mad.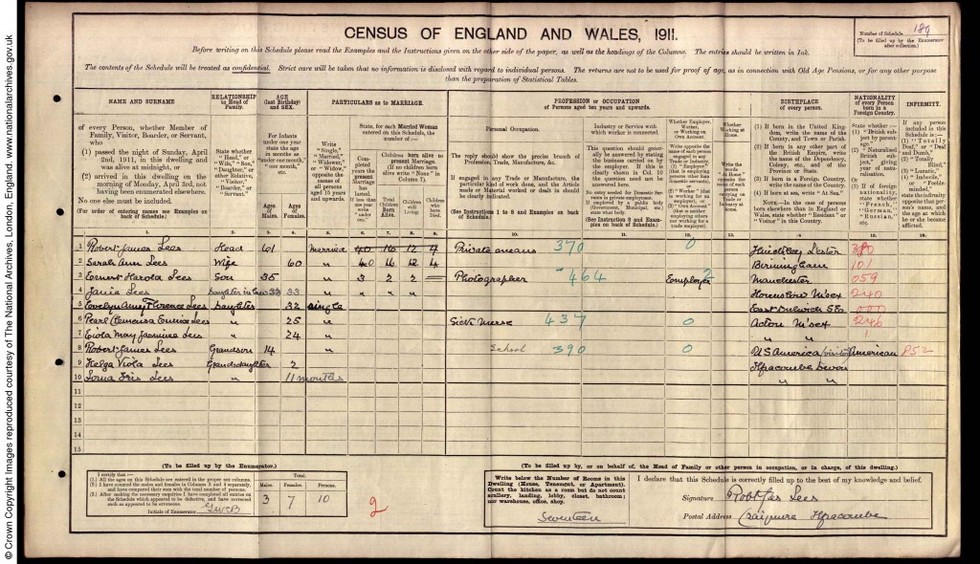 The Lees family in the 1911 census
Later Lees was travelling with his wife and two American companions when at precisely 7.49 pm he suddenly exclaimed "the ripper has committed another murder". Lees went instantly to Scotland Yard and reported his vision only moments before a telegram arrived announcing that another body had been discovered at exactly 8.10 pm.
According to the report, this was enough to convince the Police of the truth of his visions. He was then able to use "a subtle power connecting him to the fleeing ripper" and later that night led constables to a fashionable mansion in the West End, where they secretly arrested the Ripper.
In later life Lees moved to Ilfracombe in Devon with his family from and remained there until about 1928, when he returned to Leicester. He wrote a series of books on spiritualism which continued to sell many years after his death. He claimed that these books had been dictated to him by friends from the spirit realm, and referred to himself as the Recorder. He died in 1931 at the age of 81 years.
It appears that no one will ever know for sure whether there as ever any truth behind the claims that Scotland Yard used Robert James Lees psychic abilities to secretly capture the Ripper. Although Lees himself never mentioned the story in any of his writings, his daughter Eva, the oldest of his 16 children claimed it was fact until she died. There has never been any explanation as to why the American press linked Lees so closely to the case and where the story originally came from. Perhaps Lees did use his powers to lead the police to the ripper? Perhaps the killer was a well-respected physician with many connections, and perhaps all involved were sworn to secrecy to protect certain reputations?