Please forgive the delay in posting our rations update. Having survived the weekend, yesterday was a whirlwind of imported fruits and contraband fats. That first flush over, we've since a had time to take pause, and reflect on an enlightening week.
The team remained committed to the end, with Megan even utilising some old tuna tins to make some delicious* (*didn't actually confirm whether this was the case) crumpets: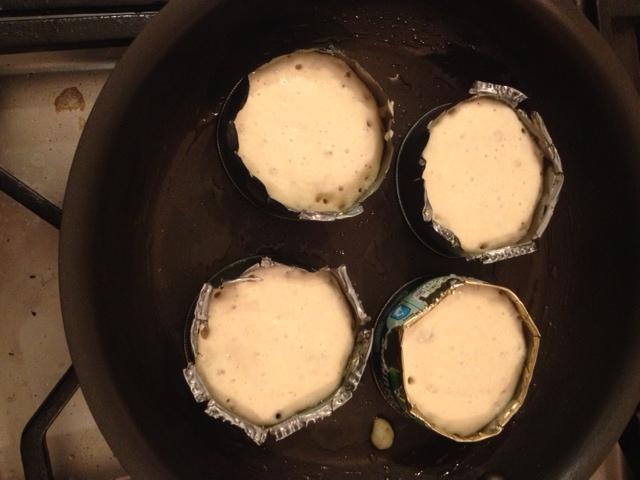 Megan's crumpets in tuna tins
She also used the last of her meat ration to rustle up this suspiciously good-looking beef bourgenion, served with the week's principle consort, potatoes: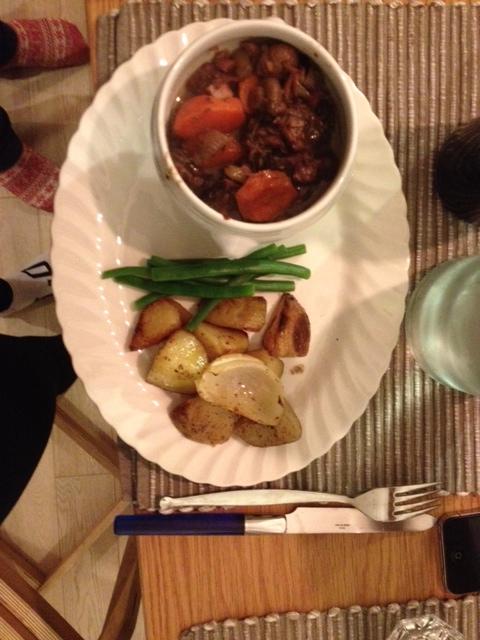 Megan's suspiciously generous beef bourguignon
Amy made this fat-and-sugar free fruit cake, using her grandmother's recipe, which involved soaking sultanas in tea overnight: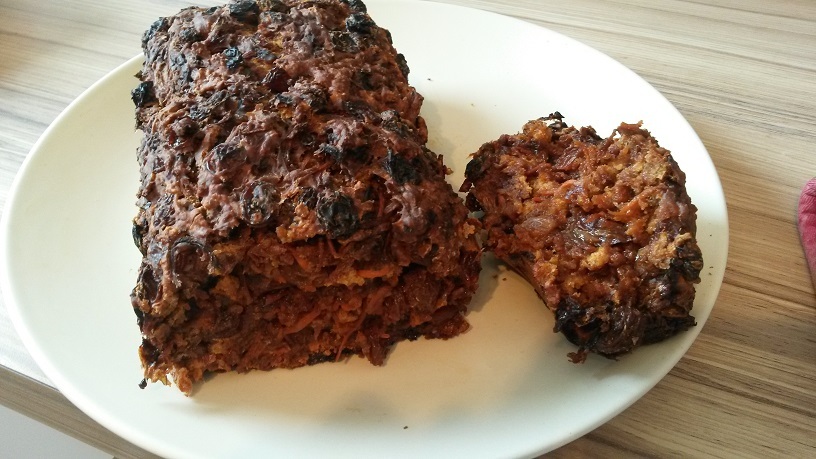 Amy's butter and sugar-free cake
Amy said that it was "really good".
The teacake came as a palatable respite after this stew Amy had eaten first: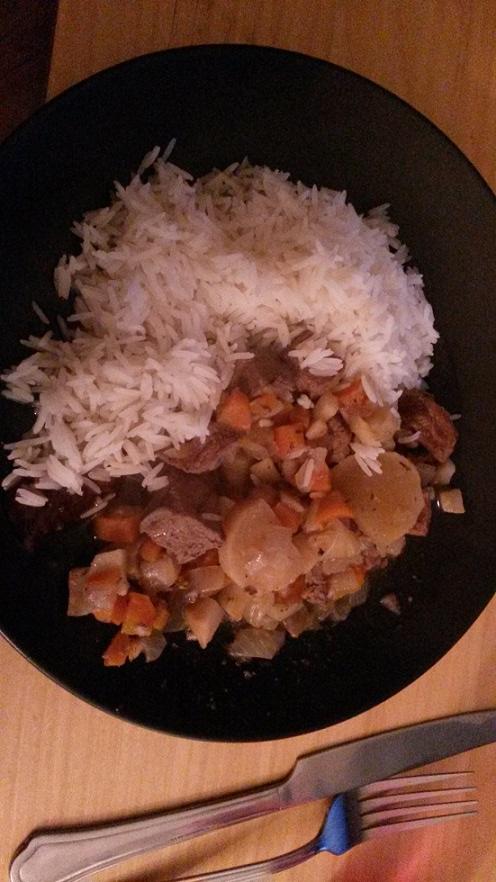 Amy's stew
"Not the best meal I've ever had," admitted Amy.
We've learned a lot over the last eight days. Amy discovered a genuine fondness for her morning porridge, which it turns out, doesn't need fancy accompaniments like sugar and syrup to be delicious. Amy also tasted - and liked - her first turnips, and realised that for a long time she has unconsciously been adding cheese to basically everything.
(Read a little more on Amy's thoughts here on her personal blog)
Megan and Jim both found the lack of snacking trying, and the week saw a fair amount of peevish chomping on raw carrots. A discerning cook, Jim found the excessive saltiness of the spam he hashed for Tuesday's lunch nigh on unbearable, and mourned the lack of chillies in his evening beef. Everyone could have done with more eggs, and Megan and Amy pined for bananas, which were absent from British shores during the war years.
Alex realised that he doesn't need to eat nearly as much as he thought he did, and that at a push, a man can survive on cocktail sausages alone for nearly 72 hours - though I suspect few would so cheerfully as he. We're pleased to report that he doesn't have scurvy, as far as we know.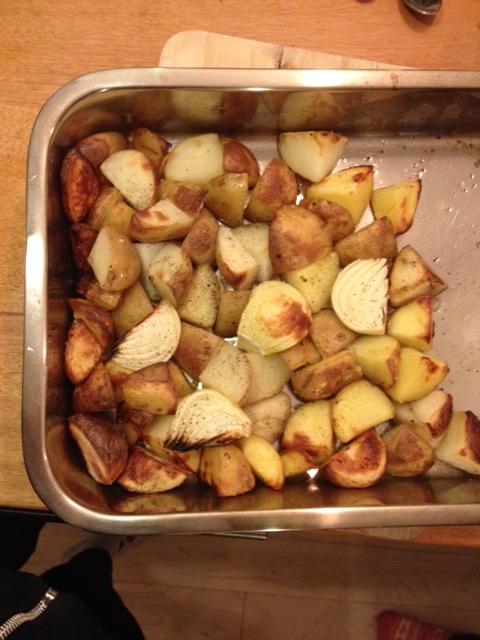 May be time for a break
We all quickly found that planning is key on rations. Thinking ahead, and cooking in advance must have been second-nature for our ancestors, however we're evidently far more pampered than we'd realised. No tins? No frozen foods? No condiments, ready-mades or Pret a Mangers? I managed a couple of smug pre-prepared lunches at the beginning of the week, but as soon as evenings became busy, the greens and roasted vegetables of Monday and Tuesday were relegated in favour of toast, potatoes, and oat cakes. I realised on Saturday that besides my daily apple, I'd only eaten beige foods for three days in a row. Not a sustainable regime, and certainly not what the Ministry of Food meant by imploring us all to keep "fighting fit".
This week opened our eyes, and fostered even greater respect for our forebears who put up with so much so that we might put up with so little. It's also been tremendous fun. No-one starved, or compromised their honour for Yankee treats. The daily doing-it-from scratch, and sharing of experiences, tips, and even sometimes, food, generated a comradely spirit which hopefully should endure beyond the half-tin of spam still lingering in the kitchen downstairs.