10 million Irish Catholic Parish Records
Our massive collection of Irish records just got a lot bigger, making your Irish heritage easier to trace than ever before.
Last week at RootsTech, we were thrilled to announce the upcoming release of a massive collection of Irish records: Our 10 million Irish Catholic Parish Records will be released this March, becoming one of the most important of our many Irish collections.
Browse the largest collection of Irish records online

What you need to know:
Covers over 200 years of history, from 1671-1900
Over 1,000 parishes included
3,500 baptism and marriage registers have been transcribed from the National Library of Ireland
This is the first time this collection has been indexed with images available online
Family historians will now be able to make all important links between generations with the baptism records and between families with the marriage registers.

These essential records cover the entire island of Ireland - both Northern Ireland and the Irish Republic.
If you have Irish ancestry, our Irish records collection is the go-to resource to trace your family history back across the Atlantic.
Browse the largest collection of Irish records online
Touching stories
Record sets like these are bound to yield many touching discoveries. Take a look at this record indicating the baptism of Ann Caroline Smith in 1877: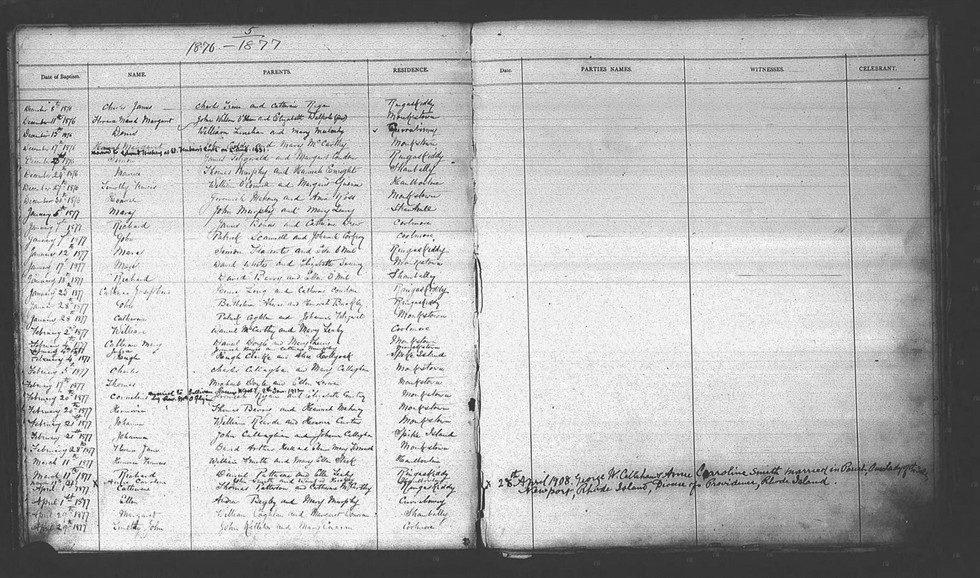 The image is a little difficult to read, but you can recognize Ann's entry because it's the only one with additional notes to the right. But what does the note indicate? Let's take a closer look:

The note indicates a 1908 marriage of Ann Caroline Smith to George W. Callahan in Newport Rhode Island. But how would this have been marked, over 20 years after her baptism?
Most likely, the Catholic Parish in Ireland received an inquiry from Rhode Island before Ann Caroline was officially married to George - after all, to be married as a Catholic, you need to have been baptized. .
In this case, her home-town Parish priest decided to leave this note in the parish register - a nice thing to do, and an amazing find for a genealogist!
Irish genealogy tips
Our blog is a great resource if you need some guidance on the often-difficult task of tracing your Irish roots. Here are some of our most popular articles on Irish genealogy:
Video: Expert help from Irish Genealogist Brian Donovan