Marvin Humes used his WDYTYA? experience to trace his roots in Jamaica and England
The former X -Factor star knew his roots lay firmly in Jamaica, the land of his paternal grandfather's birth. This led Marvin on a sun-soaked journey of discovery that resulted in an unsettling revelation, before turning his attention towards his mother's English side of the family. While Marvin relied mostly on Jamaican records, his adventure also brought to light some fundamental family history advice we can all use.
1. Start at Home
This really is the must-have tip for any family history novice. Marvin started his journey by speaking to his uncles and looking at old photographs that gave him the foundations to take his research further. Older members of your family will often have memories of important details you won't have heard before, so be sure to make the most of them while you can.
20 family history questions to ask your relatives
2. 'Missing Ancestors' Might Appear in Institutional Records
After visiting his parents in Essex, Marvin's next stop was Crawl Farm in the Jamaican countryside where he hoped to discover what led his grandfather, Robert, also known as Randall, to leave the country in 1955. There he met Randall's cousin, Dockary Williams, who revealed Randall had been raised by his uncle, John Williams, after his mother Mabel was committed to an asylum.
Asylum records revealed Mabel spent the last few years of her life in Kingston's Bellevue 'lunatic asylum' before dying of a brain infection in 1940. "It seems like Mabel never had any support from her family, which is really, really sad," said Marvin.
Search hour collections of Institutes & Organisations records
3. Expect the Unexpected
Next, Marvin traced the Williams line back even further. It was revealed that his great-great grandfather, Solomon Williams, was born in 1862 on a 20-acre plantation called Comfort Hall. A document from the 1830s then revealed that Solomon's father, John, had been a black slave owner. This shocking discovery clearly had a significant impact on Marvin who, until that point, "didn't even know black people had slaves."
4. Workhouses Still Operated in the 20th Century
Once back on home soil, Marvin investigated his mother Sharon's side of the family, paying particular attention to her mysterious grandfather, Frederick "Old Man" Buckingham. Workhouse records revealed Fred had endured a tough start in life and had spent time in the Chelsea workhouse as a child. There he developed scrofula, a form of tuberculosis, and was transferred to the Metropolitan Infirmary in Margate where it was believed the sea air would ease his condition.
This just goes to show that you shouldn't reserve workhouse records for your Victorian ancestors. The workhouse was a fact of British life from the early 1600s until the early 1930s.
Search our collection of Workhouse Registers
5. Military Service Records Can be Incredibly Revealing
Fred's life did not get any easier as he was abandoned by his family at the tender age of nine. He spent the rest of his childhood in the North Hyde School for orphans before joining the merchant navy. Newspapers revealed that as a young man, he often found himself on the wrong side of the law and his Naval service records listed a number of infractions as well as a number of distinctive tattoos.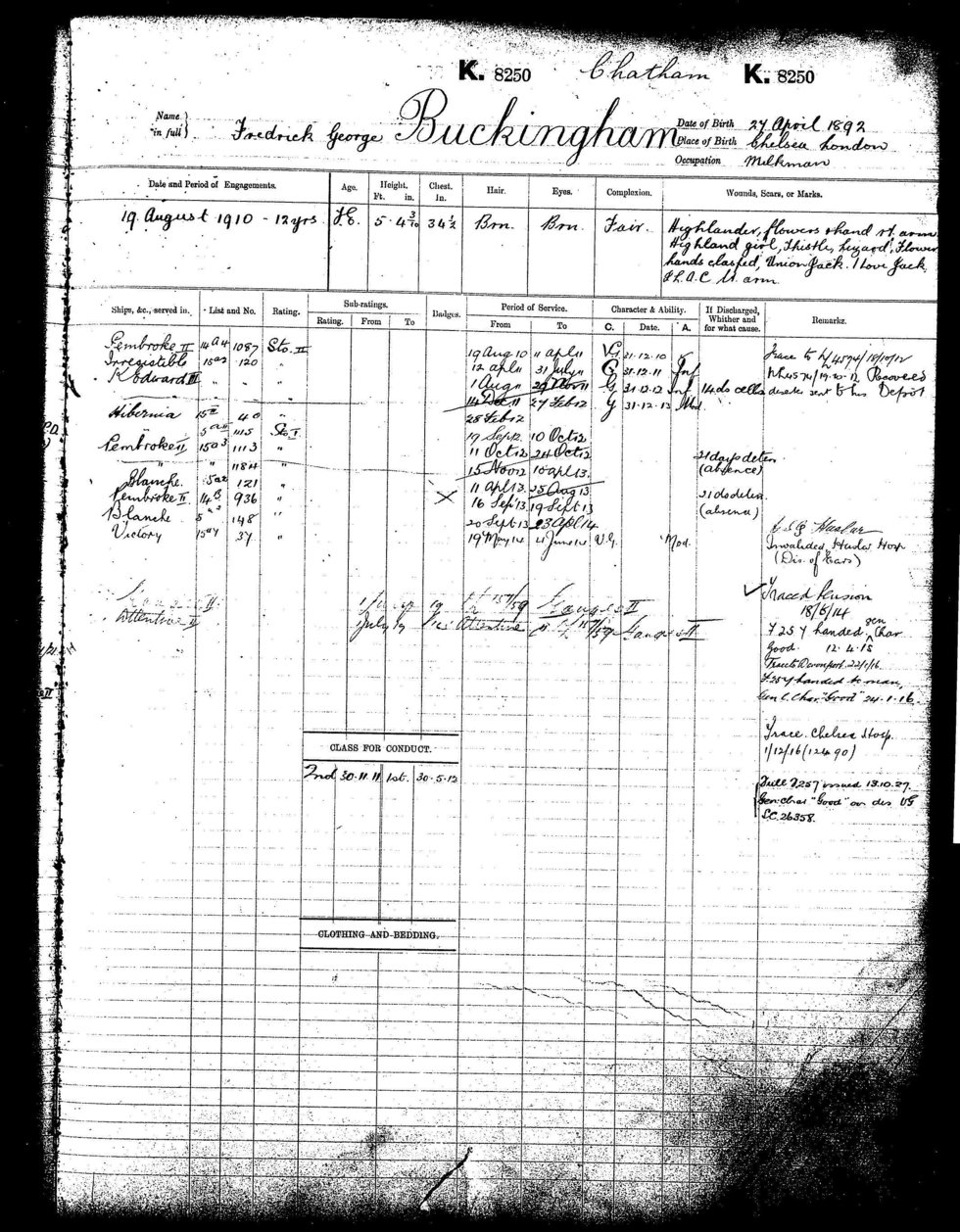 Fred found in our Royal Navy Seamen records
6. Nothing Adds Colour to Your Research Quite Like Newspapers
Fred's story was not solely one of hardship and anger. Marvin soon learned his grandfather went on to play a role in one of the most dramatic events of the entire Second World War. In 1940 he was serving as stoker on-board the King Orry, one of the ships sent to rescue trapped British troops during the evacuation of Dunkirk. Further newspaper reports revealed the King Orry took a direct hit from a German bomb and Fred only survived the blast by diving overboard. The report went on to add that he was still smiling when a rescue vessel eventually picked him up.
It appears that by now, Fred's luck had began to change as this was not the only time he narrowly avoided death. A later article with the fantastic headline, "Nazis can't sink Fred" revealed that Old Man Buckingham had actually been a been a war hero. Nobody in Marvin's family had any idea.

An Article on Fred found in 1940 issue of the Dundee Courier
7. Exotic Ancestors? Take Advantage
We couldn't help but be envious as Marvin ventured from one tropical location to the next in search of his ancestors. So what lesson do we learn from that? Simple! If your family hail from sunnier climes, and you can afford the trip, why not combine your genealogy research with a holiday?!