Want a Christmas party to remember? Well you might just consider a visit to a nineteenth century asylum.
Discover your family's story with a free trial
Don't believe me? Just look at this bold claim published in 1874:

Derby Mercury - Wednesday 07 January 1874© THE BRITISH LIBRARY BOARD. ALL RIGHTS RESERVED
That's right, nowhere has Christmas "brought a warmer glow of pleasure" than at an asylum in Derby. So what is it that made asylums THE go to place for Yuletide festivities? We've had a dig around to find the top tips from Christmas in the asylum that you can apply to your own life year round...
Put on a show
There's nothing mad about holding a Christmas ball in an asylum, as pointed out in the article below.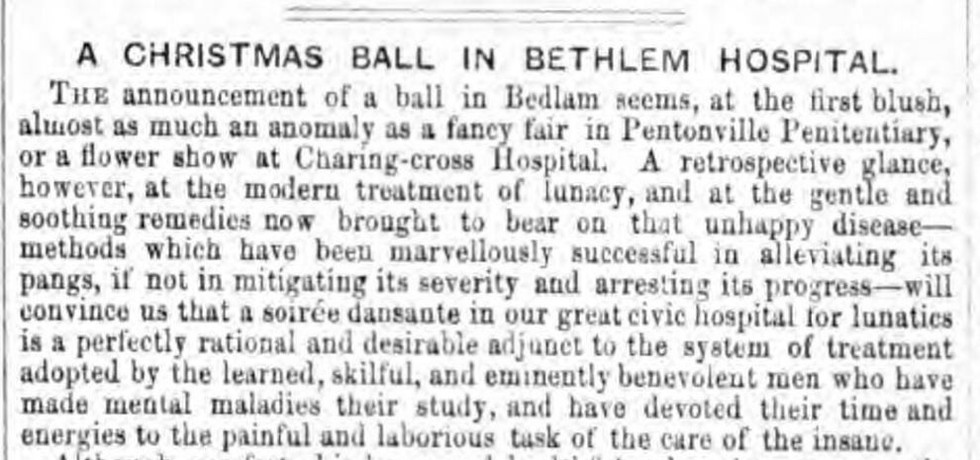 Illustrated Times - Saturday 24 December 1859© THE BRITISH LIBRARY BOARD. ALL RIGHTS RESERVED
Indeed, the carers charged with the "painful and laborious" task of caring for the mentally infirm deserved to enjoy a festive celebration in return for their good work administering "gentle and soothing remedies". Remedies such as sleeping naked on straw, taped to a bed and having one's jacket taken away as you slept in the cold 'because it was too smart'.
Sure enough, it doesn't take long to track down a trail of mistreatment hearings being investigated around the same time, when religious enlightenment had apparently disposed of the gags, whips and other older instruments of cruelty.
It seems these "gentle and soothing remedies" included sleeping naked on straw and being taped to a bed
And this isn't just a modern world perspective making the remedies seem archaic. If a mid-nineteenth century newspaper points out that the treatment of asylum inmates is wrong, there's sure to be something off.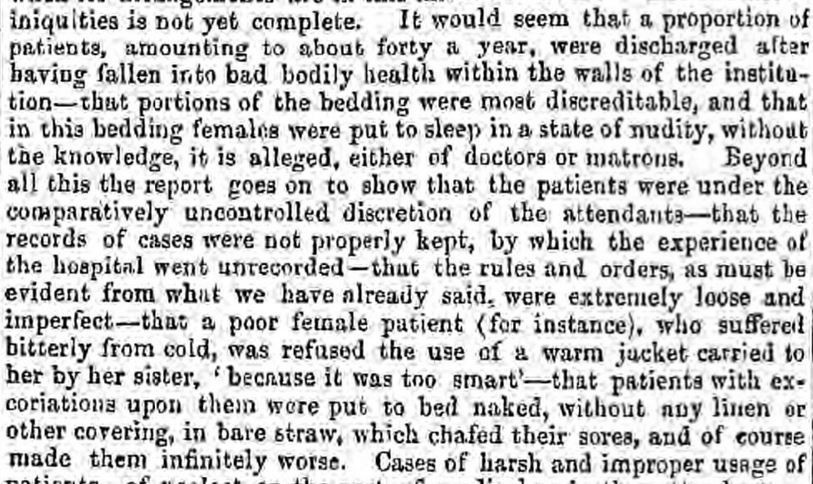 The Examiner - Saturday 02 October 1852© THE BRITISH LIBRARY BOARD. ALL RIGHTS RESERVED
But enough about that. Right now it's time to...
Deck the halls

The positive effect of festive decorations on the mood of inmates wasn't underestimated. Bethlem had a Christmas tree every year except 1895, when the employees charged with decorating it were ill.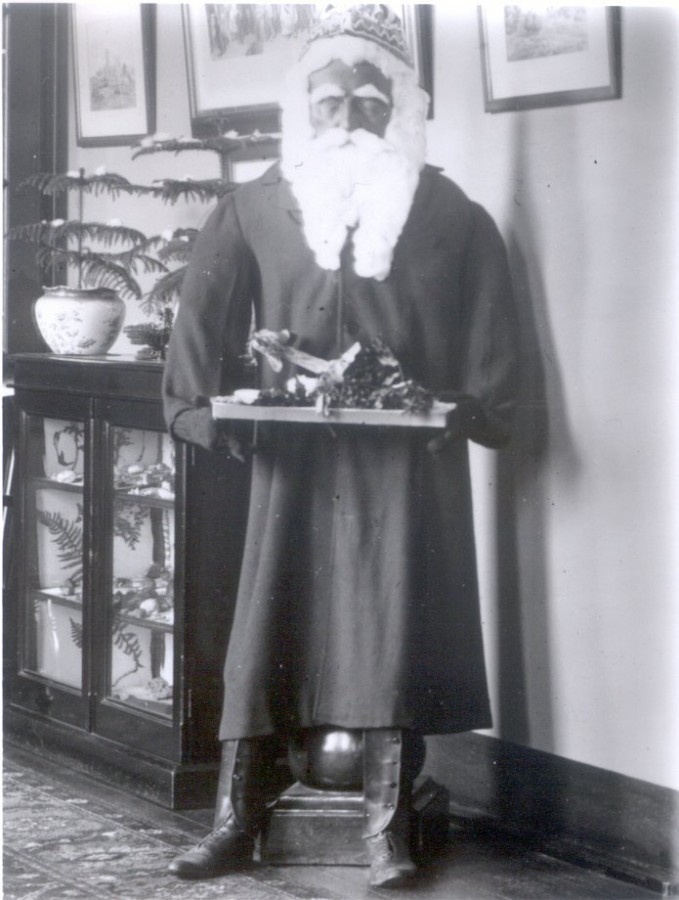 Spreading the festive fear, sorry, cheer: A statue in one of Bethlem's galleries gets a Christmas makeover in 1907
Though the passing of gifts between staff and inmates was prohibited so as to avoid corruption, presents which had been donated were often given to both, and the inmates were treated to a Christmas dinner of roasted meats, plum pudding and mince pies.

Dance the night away
Music and dancing were a regular fixture at Bethlem, though none more raucous perhaps than the Christmas ball. Home-made wines (though made by whom it is not clear) and refreshments were handed around, while those inmates deemed well enough could be seen on the dance floor with members of staff.
Inmates could be seen on the dance floor with members of staff
It seems it was often hard to tell the two apart, with both dressed in their best clothes as they danced the polka together.
If you don't ask, you won't get
Madness runs deep in the veins of Bethlem, but not just in those of the inmates. Mr. Hudson, the asylum's receiver, was found to be embezzling funds, primarily from those received by the asylum over the Christmas period. On being discovered, Hudson made a break for it out the window.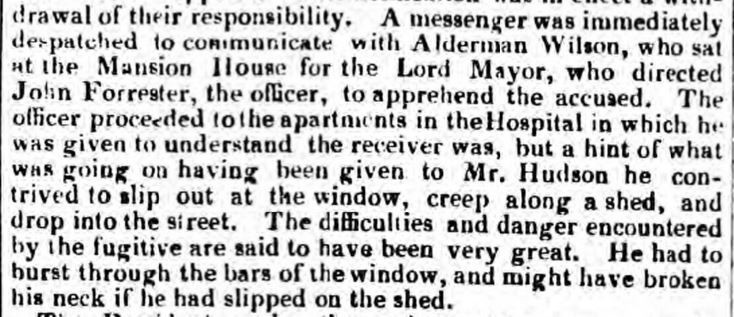 Morning Post - Saturday 22 August 1835© THE BRITISH LIBRARY BOARD. ALL RIGHTS RESERVED
Despite this great escape, Hudson requested that the asylum grant him his pension, which they did, to the healthy sum of £2,000 a year, over £85,000 today.
So it seems that Charles Dickens might have been right when he wrote in The Times in 1853 that "In strictness, we are all mad when we give way to passion, to prejudice, to vice, to vanity; but if all the passionate, prejudiced, vicious and vain people in this world are to be locked up as lunatics, who is to keep the key of the asylum?"
And one last thing…
A vocal spokesman for asylum inmate rehabilitation through "love" rather than punishment, Dickens gave carers of the mentally infirm one piece of advice we can all learn from: "if you can do a little in any good direction- do it. It will be much, some day."