Life above the shop: A behind-the-scenes glimpse of a tradesman's world
This is a guest article provided by Hannah Barker. Hannah is a historian of industrial revolution England, and Professor of British History at the University of Manchester. She is also Chair of Manchester Histories, a charity which works to transform lives in Greater Manchester through histories and heritage, and Historical Advisor for the National Trust at Quarry Bank Mill.
Many family historians will discover ancestors who were 'in trade'. The small businesses that tradesmen and women ran were at the heart of urban economic growth and social transformation in eighteenth- and nineteenth-century Britain, where shops and workshops dominated town streets and helped to satisfy an increasing desire for consumer goods.
Find out if your ancestors were 'in trade' with a trial membership
The picture below shows one of Manchester's main thoroughfares, Market Street, in 1821. The  timber-framed structure of William Hyde's grocery shop, with its porch leaning at a rather drunken angle, is at the centre of the picture on the left. Next to Hyde's shop (moving towards the foreground) was the cheesemonger and provision dealer Charles Pollitt's premises, in another timbered building. In the more modern four-story brick building adjacent to that, John Hemingway, silversmith and watchmaker operated.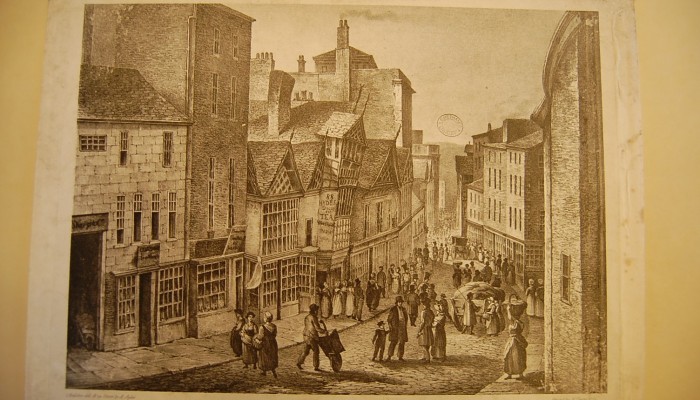 On the other side of Hyde's shop and adjacent to it was Mary Walker's ironmongers, and next to her, Catherine Crossley's toy warehouse, the premises of John Wickstead, umbrella maker and the Red Lion public house. Across the street were shops variously run by a druggist, a boot and shoemaker, a hosier, a linendraper, another cheesemonger, a straw hat maker, a cutler and surgeon's instrument maker, a milliner and a tea dealer.
The Life of a Shop-worker
Today shop-workers commute into town centres to sell goods produced elsewhere. But in the past these buildings were generally inhabited day and night, by individuals who both lived and worked in them, and who were often involved in both the manufacture and the sale of the goods that they stocked.
Not only was living in the same building in which one worked common, but so too was co-habiting with employers, servants, apprentices, business partners, one's own blood relatives and those of one's employer. As one might expect, living and working cheek by jowl in this manner, often in very cramped circumstances, was not always easy.
Close Encounters
When George Heywood, a young journeyman grocer, moved into the shop and home of John and Elizabeth Jones on Hanging Ditch in Manchester as their employee in 1811, household relations were to prove tricky.
A six room building, in which at least one room was given over to the business, had to accommodate Mr and Mrs Jones, a female servant, three adult male employees and the three daughters and one son of John and Elizabeth Jones, plus Mrs Jones's two daughters from her first marriage, who were in their mid to late teens. This almost certainly meant that children and employees had to share rooms for sleeping, and probably beds too.
Tensions Rise
Heywood didn't seem to have understood a set of unwritten rules within the Jones's packed household designed to uphold propriety. This resulted in an argument in which Mr Johns reprimanded him for sitting up late at night so that the women of the household couldn't mend their clothes privately, washing in the kitchen when females were present and talking to a female servant in a bedroom on her own.
Not surprisingly, Heywood soon left the Jones's employ. Whilst he didn't like his business partner with whom he subsequently lived and worked, he seems to have learned a lesson, and noted that 'to be comfortable I must not dispute anything with him, but be silent where I cannot agree'.
Were your relatives 'in trade'? Why not see if you can find them in our extensive collection of education and work records.
Start exploring your ancestors' story with a trial membership