How Jonnie Peacock Traced His Working-Class Ancestors
The gold medalist uncovered tragic tales of hardship while investigating the lives of his unfortunate ancestors
The final episode of this year's run of Who Do You Think You Are? saw athlete, Jonnie Peacock, delve through a variety of English records in search of his working-class ancestors.
He began the episode by revealing his love of sport first grew out of football rather than athletics and, as a result, he had always been intrigued by his maternal grandfather, Johnnie Roberts, a man he had never got the chance to meet but who - according to family legend - had been a keen amateur player. Jonnie then set off to to determine just how good a player his grandfather actually was.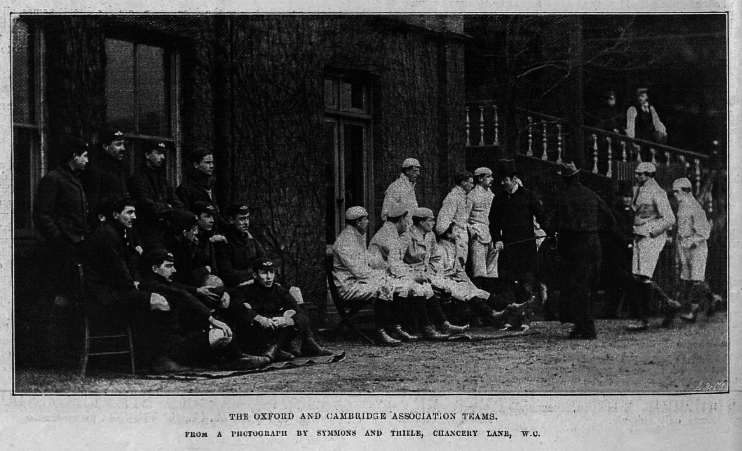 Search for details of your ancestor's sporting achievements in our collection of historical newspapers
To find out, Jonnie and his mother examined old press clippings kept by the family. The reports told the story of a gifted young player who scored so many goals that talent scouts from Leeds United soon came calling. Unfortunately for young Johnnie, the scouts were turned away almost immediately by his father, Edward, who felt that learning a trade as an apprentice would provide his son with a far more secure future.
Census records soon provided a possible explanation as to why Edward may have denied his son the chance of a football career. Edward, a dockworker, and his wife Ann lived a hard life and were recorded in the 1911 Census as living in slum housing on Haddock Street in Bootle, Liverpool. The census return showed that while Ann had given birth to eight children, only four were listed as still living. Edward himself had also lost five siblings to diseases linked to poverty, including gastroenteritis, typhoid, tuberculosis and bronchitis. This perhaps explains why he was so concerned about his son choosing a stable career.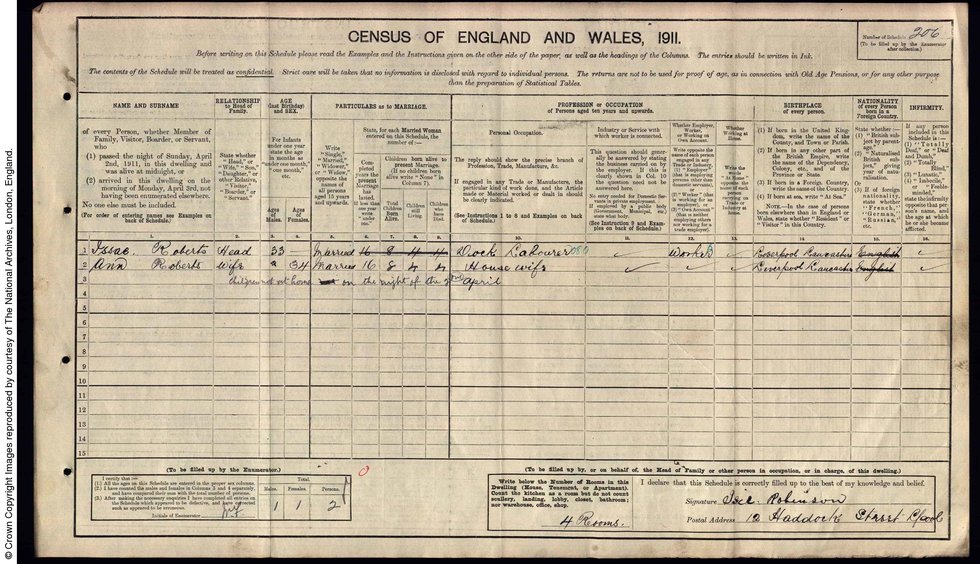 Isaac & Ann in the 1911 Census
Jonnie then focused his research on learning more about Edward's life. Soon he discovered a marriage certificate that would lead to the discovery of a shocking family tragedy. The certificate revealed Edward's father, Isaac Roberts, died under unusual circumstances when Edward was just a child.

In a shocking turn of events, further research revealed Isaac died of anthrax poisoning. He contracted the terrible disease after handling dried blood and animal bones from the cargo of a ship he was working on at Liverpool's Albert dock. Medical records held by the Liverpool School of Tropical Medicine revealed Isaac only sought treatment when he was on his last legs as he couldn't afford to miss a day's work and died just hours after admitting himself.
"He clearly pushed himself so hard," noted Peacock.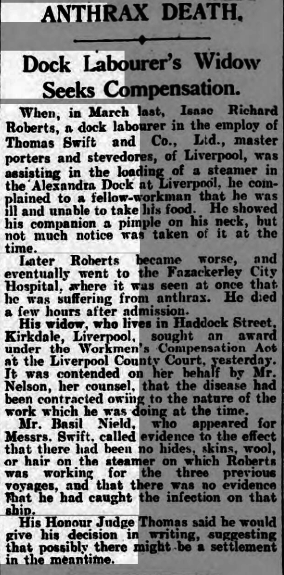 A report on the inquest into Isaac's death, found in our collection of British Newspapers.
Next, Jonnie turned his attention to his father's side of the family, focusing primarily on the story of his 4x great grandmother, Louisa Voss. Louisa turned out to be a colourful character whose bad behavior had once led to the closure of her local pub in Warboys, Cambridgeshire. Documents relating to the closure described Louisa as one of the village's "bad characters", who was known to drink heavily and "fornicate frequently". There were even hints that suggested the pub had occasionally been used as a brothel by these "bad characters".

As a result of her bad reputation, Louisa found it difficult to find stable work and ended up as part of an agricultural labour gang. Conditions for those employed by such gangs were so bad they were described by the press as "white slaves". Further newspaper reports and Petty Sessions courts registers revealed Louisa was eventually convicted of stealing from her boss and briefly forced into the workhouse in 1853.
Search our collection of workhouse records
This, however, was not the end of Louisa's story. She must have been a tough young women because, in 1860, she took her former boss John Hanworth to court for assault. She had four illegitimate children and one of them, Millicent, was so proud of her mother she described herself as "illegitimate" on her wedding certificate at a time when most women would have made up a father's name for fear of being shamed.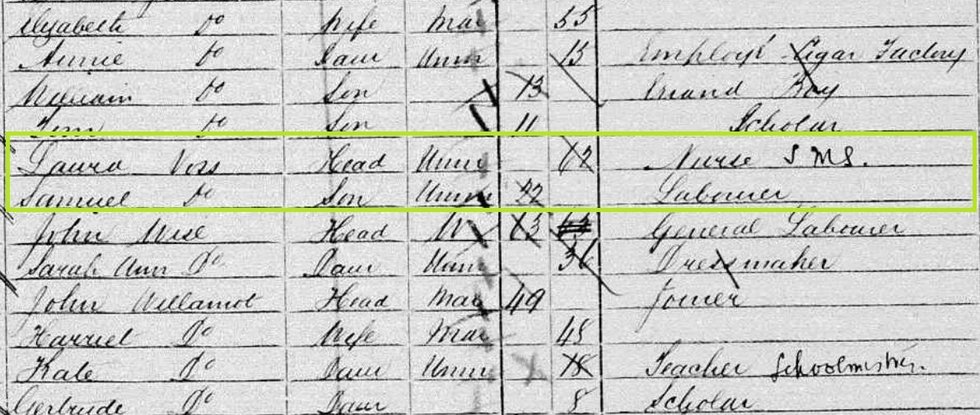 Louisa's final years were spent near her family in Boston, Lincolnshire. She's mistakenly recorded as 'Laura' in the 1881 Census
In later life, Millicent, whose carter husband did well in business, offered £100 to her daughter and son-in-law for each grandchild they gave the name Voss, another mark of her pride in Louisa. "She wasn't afraid to get in men's faces and in the 1850s, standing up to men was no mean feat. She was not afraid," concluded Peacock.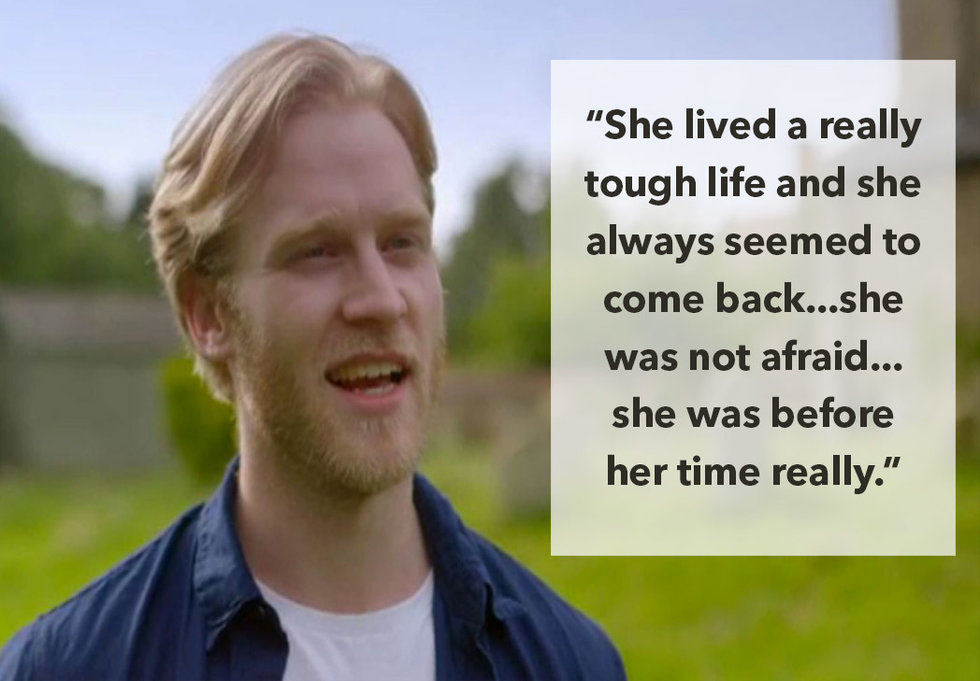 Drawing on comparisons with his own characteristics, Jonnie was particularly moved by Louisa's life story, one of resolve in the face of hardship.