I was born very close to Christmas. Very close. Actually incredibly close. It is a genuine truth that as I was brought into the world by nurses with tinsel on their uniforms, a choir stood outside the room singing Unto us a Child is Born. I was that child. Not that child, obviously, that child was Jesus, but I was the child for whom the choir sang.
Explore our newspaper collection today

When you have a birthday so close to Christmas, you experience the worst of both worlds. No one cares that it's your birthday, parties are impossible to organise as soon as you become an adult because you cannot compete with the free bars and regrettable decisions on offer at work functions, and the dreaded joint present is a very real consequence of your parents' decision to have a quiet night in in March.
In order to soothe the pain of the most logistically awkward time of the year, I went through the newspaper archive to find out more about those who shared my annual nuisance.
Northampton Mercury – Friday 02 January 1931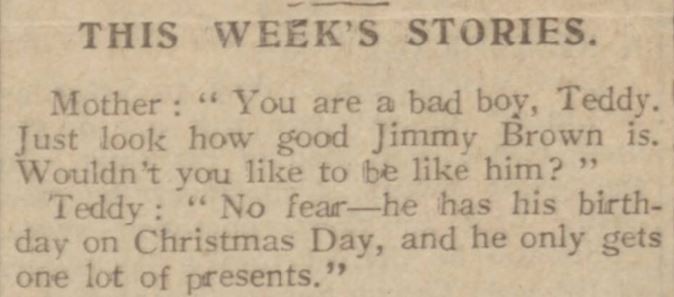 Image © THE BRITISH LIBRARY BOARD. ALL RIGHTS RESERVED.
Firstly, I have doubts as to the veracity of this story. It sounds to me a lot like anti-Christmasbirthday propaganda being spread throughout Northamptonshire for some reason. Teddy raises a valid point, however. There's nothing quite like the disappointment one feels as a 6 year old who hears the words 'this is for your birthday and Christmas'.*
Western Daily Press – Saturday 24 December 1932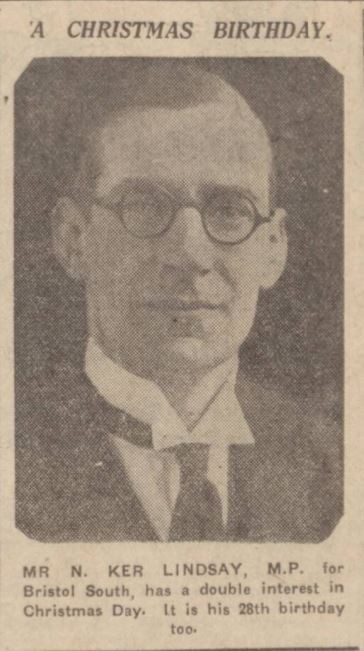 Image © THE BRITISH LIBRARY BOARD. ALL RIGHTS RESERVED.
This is fine, it's quite nice that a newspaper would give column inches to someone's birthday at such a busy time of year. That's not the issue that I have with this, oh no. My issue comes from this dapper chap's name. Guess what the N stands for. Guess. No, go on, actually guess. Yes, that's correct. Noel. Not content with spoiling every Christmas and birthday, this poor man's parents left him with a permanent reminder of his yearly curse.
That got me thinking, so I had a little search.

That's how many people in the 1939 Register who were born on Christmas Day and were actually named Noel by their own parents. Hilarious, guys. Hilarious.

Discover your world on the eve of war in the 1939 Register
London Daily News – Tuesday 20 December 1910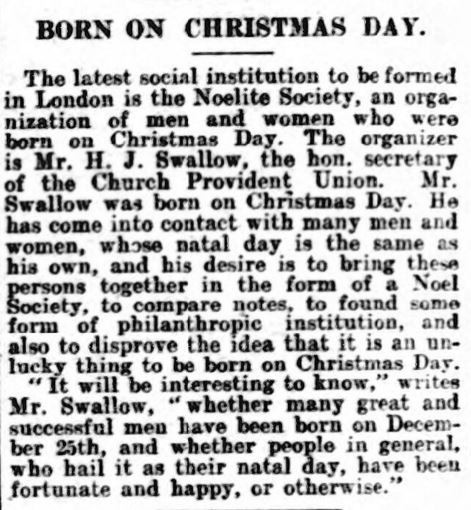 Image © THE BRITISH LIBRARY BOARD. ALL RIGHTS RESERVED.
By and large, people who are lucky don't need philanthropic organisations to be set up to help them. I can only assume the notes that they were to get together and compare were heartfelt notes of apology from their parents, an attempt to make amends for the yearly December-December barren presents spell.
Nottingham Evening Post – Tuesday 24th December 1929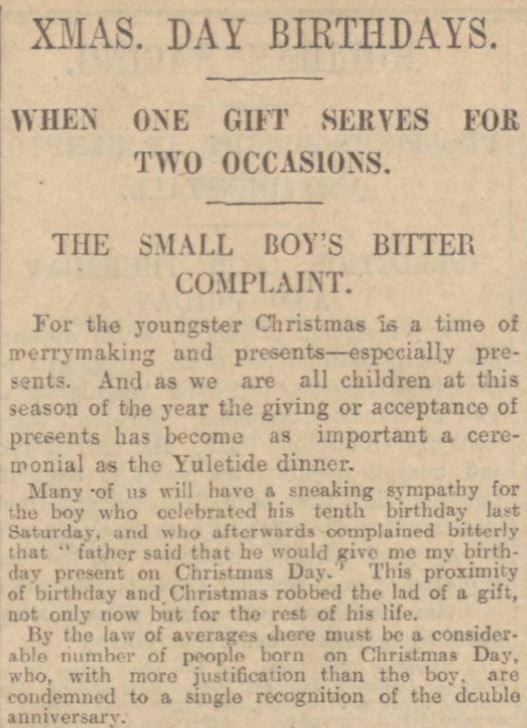 Image © THE BRITISH LIBRARY BOARD. ALL RIGHTS RESERVED.
I am amongst the many who have a sneaking sympathy for the ten year old boy. I am firmly cemented in that many, nodding my head and shouting 'preach!' This is from 1929, so if the ten year old is still alive he's in his 90s, and I'll bet as he's blowing out the candles on his Christmas cake this year he'll still be muttering bitterly about his natal injustices.

Western Gazette – Friday 23rd December 1938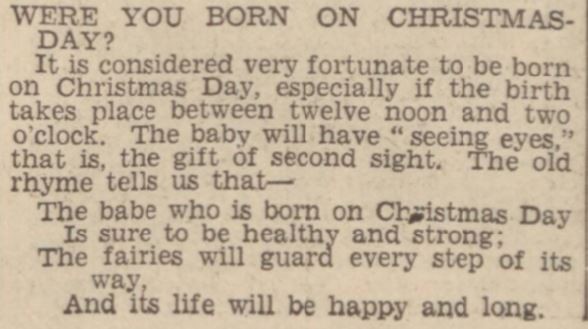 Image © THE BRITISH LIBRARY BOARD. ALL RIGHTS RESERVED.
Ah I'm a witch, great.
Are you a Christmas baby? Share your pain with me on Facebook.
*I want to make it clear in case I upset my Mum, this was never said by my parents