Read Jane Austen's Last Will & Testament
The last will and testament of Jane Austen is part of our Britain, Wills of Famous Persons 1552-1849 collection. Take a gander to find out how much money she left, and to whom
Jane was at home at Chawton in Hampshire when she wrote her will on 27 April 1817. She was ill with what is now thought to have been Addison's disease, a rare hormonal disorder. Just days later, she moved to Winchester to be nearer to her doctor. She died on 18 July 1817 and was buried in the cathedral at Winchester.
At her death, her total assets were valued at just under £800 (around £63,000 today - so, not too shabby, but still nowhere near the amount befitting the vast literary influence she would go on to command). In her will, Jane left nearly everything to her beloved sister, Cassandra, who would eventually nurse her through her final days. Unfortunately, the will was not signed by witnesses and had to be verified after her death. The document also includes written statements provided by two of Jane's close friends, John Grove Palmer and Harriet Ethel Palmer, who had to swear in a written statement they had known Jane for years and could confirm the handwriting was indeed hers.
Jane and Cassandra were inseparable and shared and incredibly close bond. Following her sister's death on July 18th, Cassandra wrote: "I have lost a treasure, such a sister, such a friend as never can have been surpassed. She was the sun of my life, the gilder of every pleasure, the soother of every sorrow; I had not a thought concealed from her, and it is as if I had lost a part of myself. I loved her only too well — not better than she deserved, but I am conscious that my affection for her made me sometimes unjust to and negligent of others…"
The two bequests made by Austen commemorate debts of gratitude she owed in life. Also named in the will is Jane's favourite brother, Henry Austen. Henry had been incredibly supportive of his sister and was instrumental in furthering her career as a writer. Without Henry's backing, it is unlikely that Austen's first four novels would have been published during her life time and he suffered as a result when ,early in 1816, the bank he was a partner in failed. A recently widowed Henry not only lost all of his own savings, but also those of his servants (possibly including his long-time cook, Madame Bigeon, who was also named in the will) as well as many thousands of pounds borrowed from his older brother, Edward Austen Knight, and uncle, Leigh Perrot.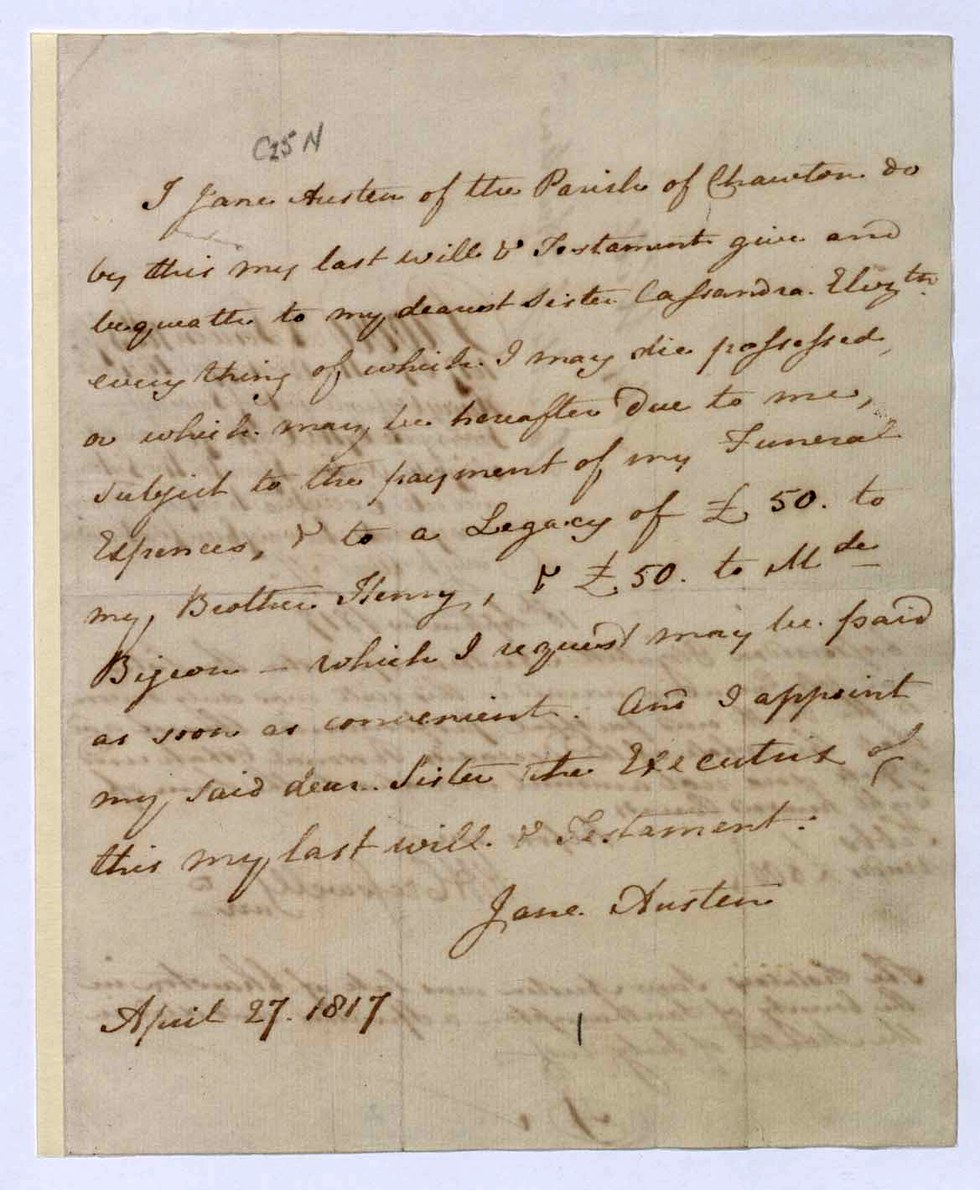 What a thrill to be able to see Jane's handwriting!
The will reads:

"I Jane Austen of the Parish of Chatham do by this my last will & testament give and bequeath to my dearest sister Cassandra Elizabeth everything of which I may die possessed, or which may be hereafter due to me, subject to the payment of my Funeral Expenses, & to a Legacy of £50 to my Brother Henry, & £50 to Mde Bigeon – which I request may be paid as soon as convenient. And I appoint my said dear Sister the Executrix of this my last Will & Testament."
Jane Austen
April 27th 1817
Read the wills of other famous people from history