Using US Naturalization Records to Trace Emigrant Ancestors
A guide to using naturalization records to trace ancestors who emigrated to the United States
Tracing immigrant ancestors can prove a bit of a challenge, but the naturalization petitions we have contain the details of many immigrants applying for citizenship. Much like today, moving countries required a lot of paperwork, much to the joy of us genealogists!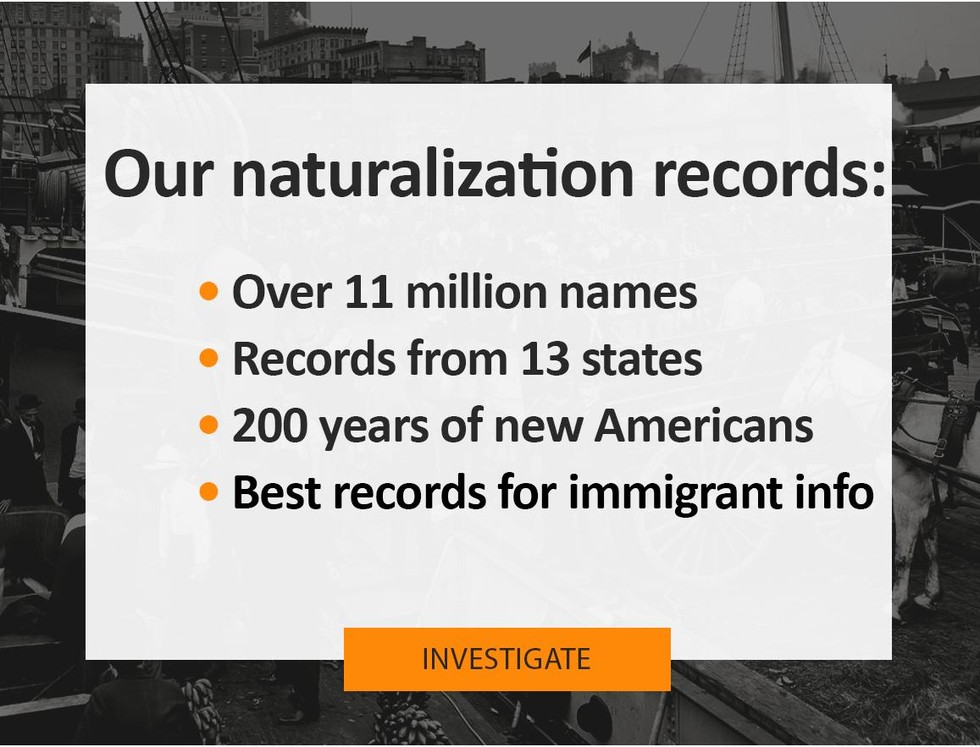 Click on the image to search naturalisation records.
With over 11 million names covering 200 years of US immigration, naturalization records could be the key to discovering a stateside branch of your family tree. Some of the records are incredibly detailed, even including photos and details of fellow travellers.
Generally, each transcript will contain:
First name
Last name
Any aliases
Birth date
Birth location
Age at event
Event type (petition of naturalisation, declaration of intention or oath of allegiance)
Event year
Event location
Relations (spouse, children, parents, siblings)
Search tip: Always look at the images for extra information.
In most cases, images will contain additional information, such as the certificate of arrival, which will indicate when the immigrant arrived and how they travelled to America.
Some forms will contain other interesting notes and even photographs (typically found in the declaration of intention forms).
Don't miss out: The naturalisation process was a multi-year, multi-step process, and most applications have at least two documents. Be sure to use the previous and next buttons to make sure you don't miss anything!
Types of Naturalization Record
Use the left and right arrows to navigate the slide show, which shows the many things you can learn from these incredibly detailed records.
A nice mini case-study concerning one Irish immigrant, Ellen A'Hearn:
Declaration of intent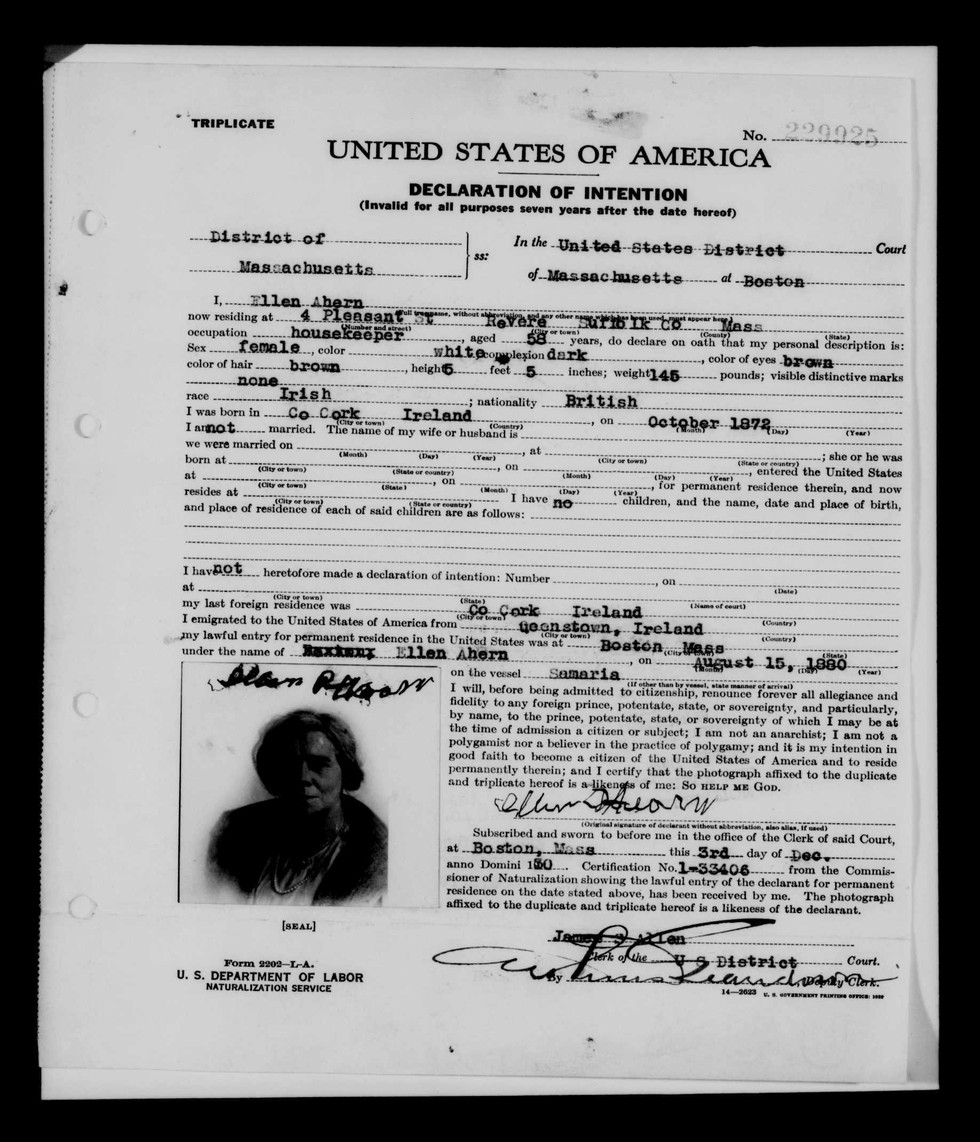 The first step in applying for citizenship was filing a declaration of intent form. These tend to contain the most valuable information. As you can see, we have discovered details on Ellen Ahern's residence in Ireland, when and where she arrived to America, her occupation, and where she was living in the US. And of course, a photo. However that wasn't all...
Certificate of arrival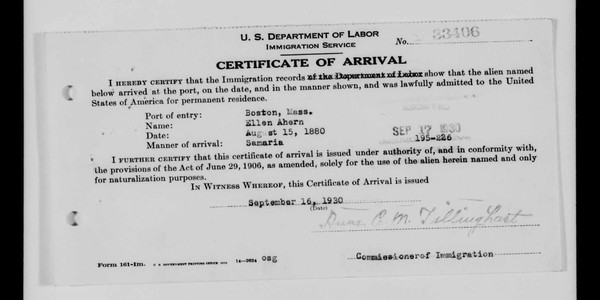 This certificate confirms the accuracy of some information from the last page. We now know for certain when, where and on what ship Ellen arrived. It's definitely worth searching for that passenger list. Lo and behold...
Passenger List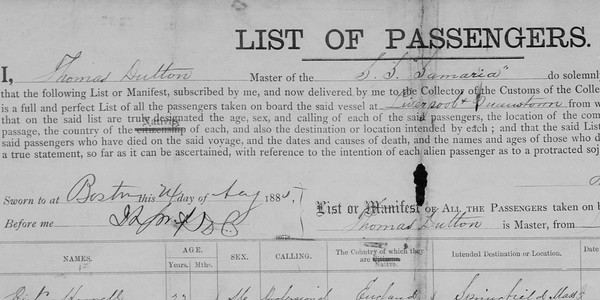 We ran a search for Ellen Ahern, arriving in Boston in 1880. Nothing came up on our initial try. Instead, we searched the ship name, Samaria, just to be sure. Sure enough, we found the S.S. Samaria arriving on August 14th, 1880 (one day before the date of Ellen's certificate of arrival). But why wasn't she coming up in our search engine? We found out after browsing the image...
Passenger List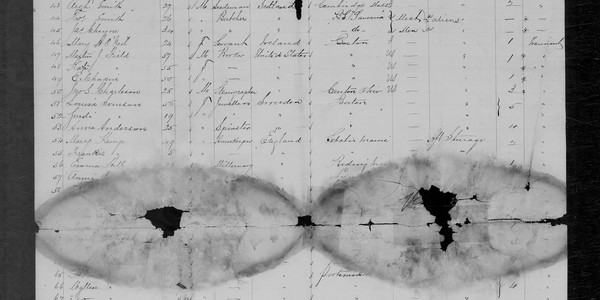 It turns out a portion of this document was severely damaged. Could we possibly find evidence of Ellen if we zoom in?
Passenger List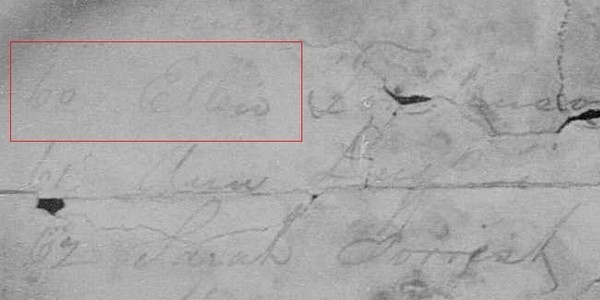 It seems like we can make out a very faint "Ellen" but not much else. Is it her? It's hard to prove for sure, but it seems quite possible. The names immediately before and after her are also lost due to damage, which is unfortunate, we would like to see if we recognise the name or origin of anyone she travelled with.
Petition for Citizenship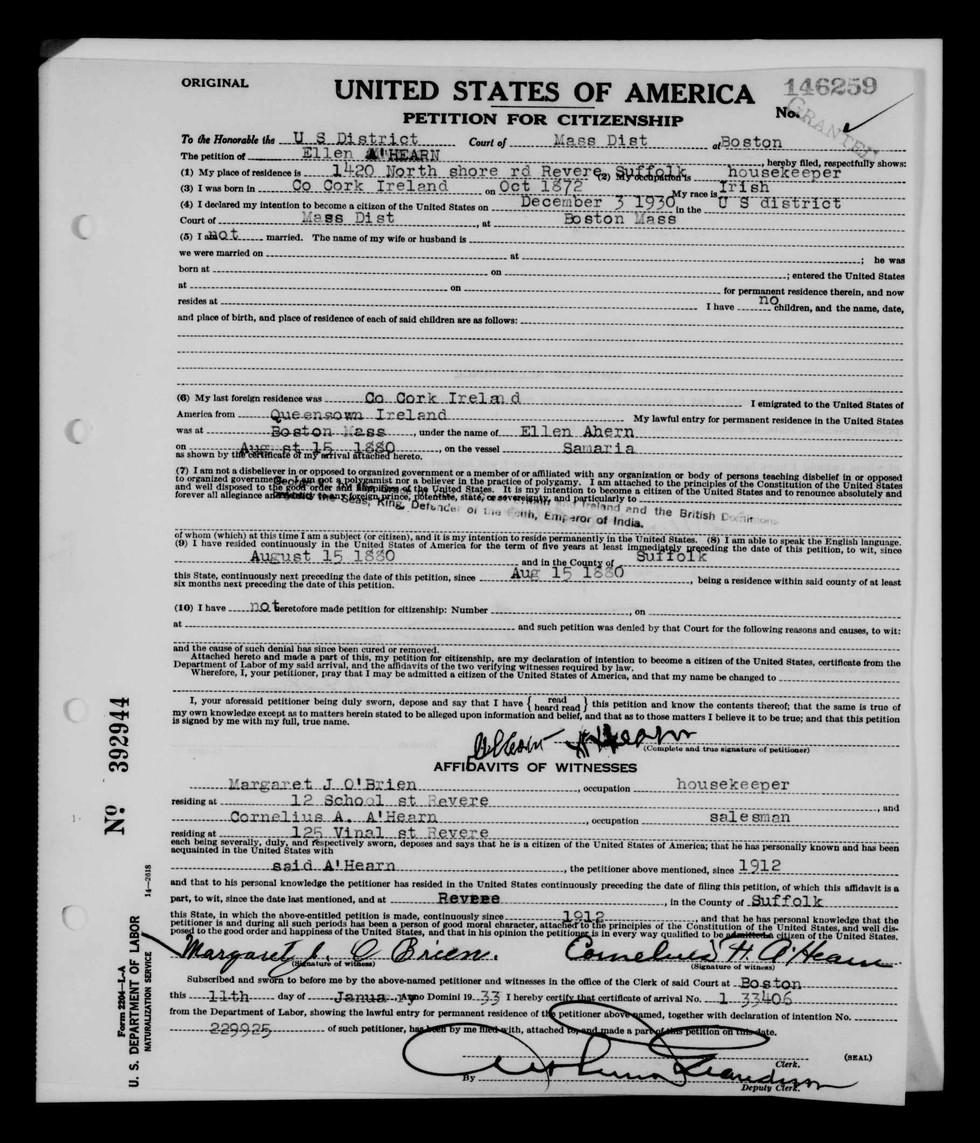 After filing intention, an applicant needed to wait three years for the next step. As we can see, Ellen filed her intention in 1930. We see similar details to what was uncovered in her first form, but now notice two associates, Cornelius A. A'Hearn (who seems to be a relative, but curiously has only known Ellen since 1912) and Margaret J. O'Brien. More leads to research.
Oath of Allegiance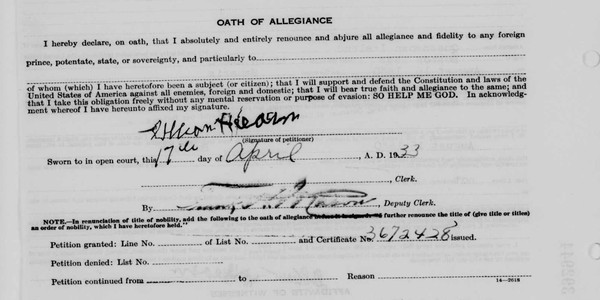 Here we have evidence of the final step. Ellen was sworn in as a citizen on April 17th, 1933. Over 50 years after she immigrated to the United States, she finally became a citizen. There isn't much information to be gleaned from this document (other than the fact that the poor handwriting in her signature implies she may not have written very much). But it's still an amazing piece of family history to have and treasure.
You can examine Ellen's naturalization records by clicking here or the S.S. Samaria ship lists by clicking here.