With Valentine's Day upon us and romance in the air, there is no better time to start exploring our marriage records.
Civil registrations of marriages began in 1837. You can find some important and interesting historical marriage records available online at findmypast such as the marriage of Albert Windsor to the Queen Mother Elizabeth Bowes-Lyons in 1923.
In keeping with the spirit of the day, you can also find a selection of aptly named couples whose union would make St. Valentine himself proud. In 1868 at Bradford on Avon there was a Love-Hart wedding as Edward Holbrook Love took Mary Jane Hart to be his bride and in 1914 a miss Valentine Pincemaille married Harry Hart in Windsor .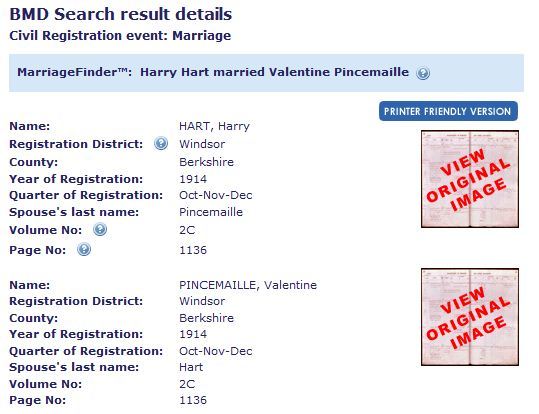 One particular wedding in 1919 must have been a romantic affair if the names of the young couple were anything to go by. Mary Sweet and Albert Love celebrated their sweet love when they wed at Paddington and in 1868, a pair of young Darlings were joined in holy union as Anne Catherine Darling and Robert Alexander Darling said their vows in Alnwick Northumberland.
Start exploring our marriage records here
The spirit of Valentine's Day is not only present in our marriages records; there are amorous discoveries to be made across many of our collections. For example the 1891 census shows that 17 year old Rosa Red was the general servant at 67, Grenville Street, Cheadle, Stockport, and birth records show that in 1913 a Valentine Card was born in Chelmsford, Essex.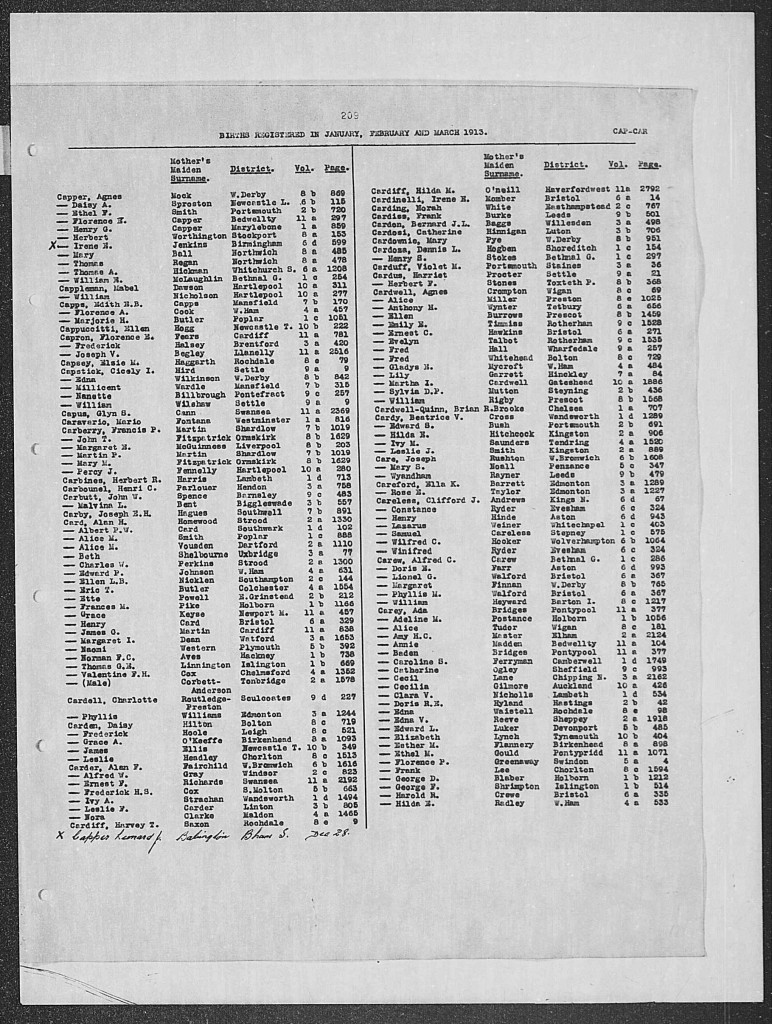 Valentine Card in a 1913 birth register
Despite its ancient origins, marriage still remains incredibly popular amongst young people with over 90% aspiring to get married at some point in the future. Although the stereotypical view is that marriages no longer last, every two out of three first marriages will last until one partner dies. The divorce rate has remained fairly static since the early 1980s. Perhaps this is because of the way society has changed, there is far more freedom to pick a partner of your own choice and to establish a long term, stable relationship before entering into the commitment of marriage. Explore the marriage records today and discover what they can tell you about the love lives of your ancestors.