The haunting season is upon us, when the ghosts and spirits of our ancestors are said to visit earth. There's no end to the tales of clanking doors and upended tables in the newspaper archives. Knights and royals appear before the eyes of unbelieving spectators, including children, old men, and vicars.
Discover your ancestors' story with a trial membership

For the most part they were friendly, with some witnesses reporting that the spirit had provided them with a sense of Dickensian perspective. Others were not so lucky, being spooked as they slept or attacked in their own homes…

Dundee Courier - Monday 24 December 1923© THE BRITISH LIBRARY BOARD. ALL RIGHTS RESERVED
Of course there are cases which turned out to be an elaborate hoax. Thieves would dress as spirits and steal the watches of their unsuspecting victims. Despite warnings from the police department, many people could not be deterred from attempting to catch a glimpse of a real life ghost.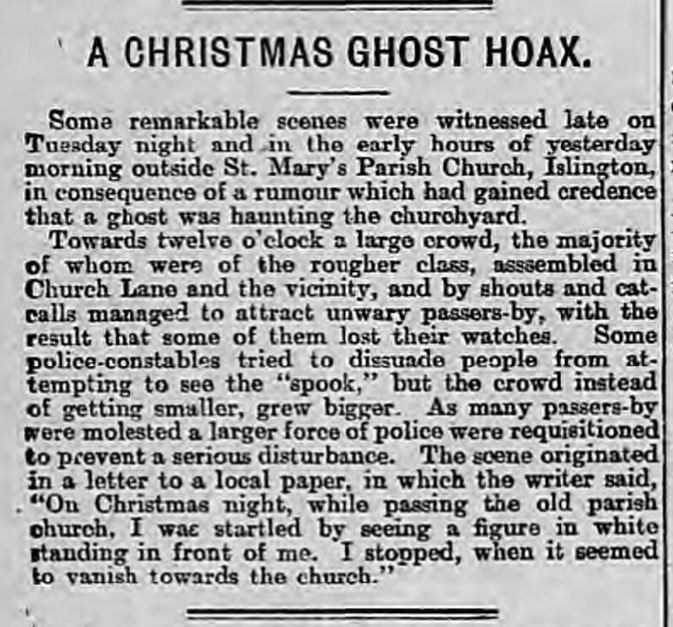 Sheffield Evening Telegraph - Thursday 5 January 1899
© THE BRITISH LIBRARY BOARD. ALL RIGHTS RESERVED
Ghost hunting is no new pastime. For years wannabe ghost busters would be caught trespassing in places where spirits famously lurked. One group of men, who had been reportedly "trying to keep their spirits up by pouring spirits down" (presumably no pun intended), were fined for breaking into the house of a farmer where a spectre was said to roam the wash house.
But who were these spirits that haunted what seems to be most every street and home in the country? One was a knight who traipsed through the small village of Calverley. He'd been "pressed to death" at York Castle for the murder of his wife and child.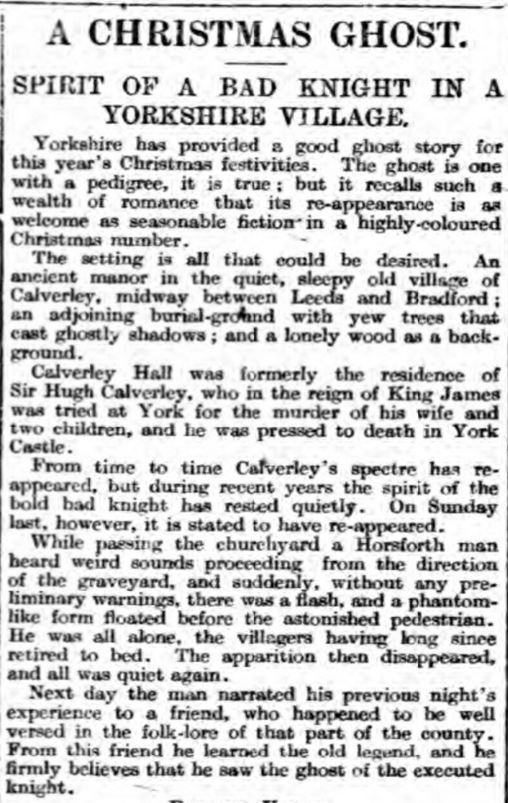 Taunton Courier and Western Advertiser - Wednesday 28 December 1904© THE BRITISH LIBRARY BOARD. ALL RIGHTS RESERVED
Another was a clergyman who'd died in a rail accident with his wife just a few weeks previously...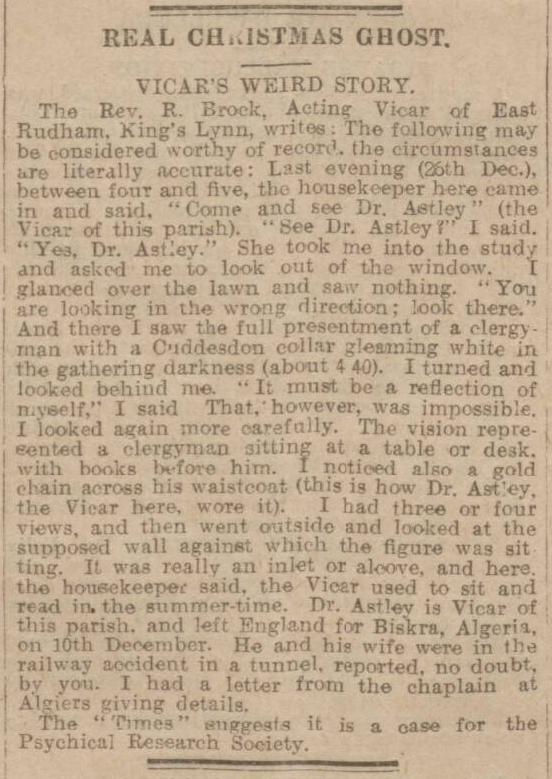 Manchester Courier and Lancashire General Advertiser - Friday 1 January 1909© THE BRITISH LIBRARY BOARD. ALL RIGHTS RESERVED
The appearance of Christmas spirits didn't always inspire fear, but rather gratefulness to be reunited with loved ones, as one writer proposed in the Blackburn Standard on Christmas Eve, 1887. For who were these ghosts, he reasoned, but the "mother whom we loved so tenderly, the child who was taken from our reluctant embrace in the bloom of its young pure beauty, the friend whose faithfulness never gave way in the hour of sharpest trial"?

So if you see a ghost this Christmas, consider a festive greeting over a bloodcurdling scream.
To explore almost 12 million newspaper pages 1710-1955 and find more spooky tales from history, visit our historic newspaper collection.