Geneoddities: The Peculiar People
In the early 1830's, a ploughman's son named James Banyard underwent a remarkable transformation that led to the establishment of a rather peculiar religious movement. Born in the Market town of Rochford, Essex, in 1830, Banyard was a shoemaker by trade and a smuggler, poacher and local troublemaker by reputation.
Start exploring your ancestors' story with a trial membership
Banyard appeared to have had little time for religion during his youth and spent most of his free time drinking.  Eventually his wife Susan, tired of drunken his antics, insisted he change his ways and attend a service in the local Wesleyan Methodist chapel. The preacher's message had such a profound effect on Banyard that he became completely teetotal and began regularly attending  church meetings. He became an upstanding member of Rochford's Methodist community and a reputable preacher on the Wesleyan circuit.
The 'Peculiar People'
James then met a Mr William Bridges, who invited him to hear a Northern preacher named Robert Aitkin. Aitkin's powerful rhetoric deeply impacted Banyard and Bridges and, in 1837, the pair left the Rochford Methodist chapel to start their own church. They obtained an old workhouse in Rochford's Union Lane and set about establishing the 'Peculiar People'.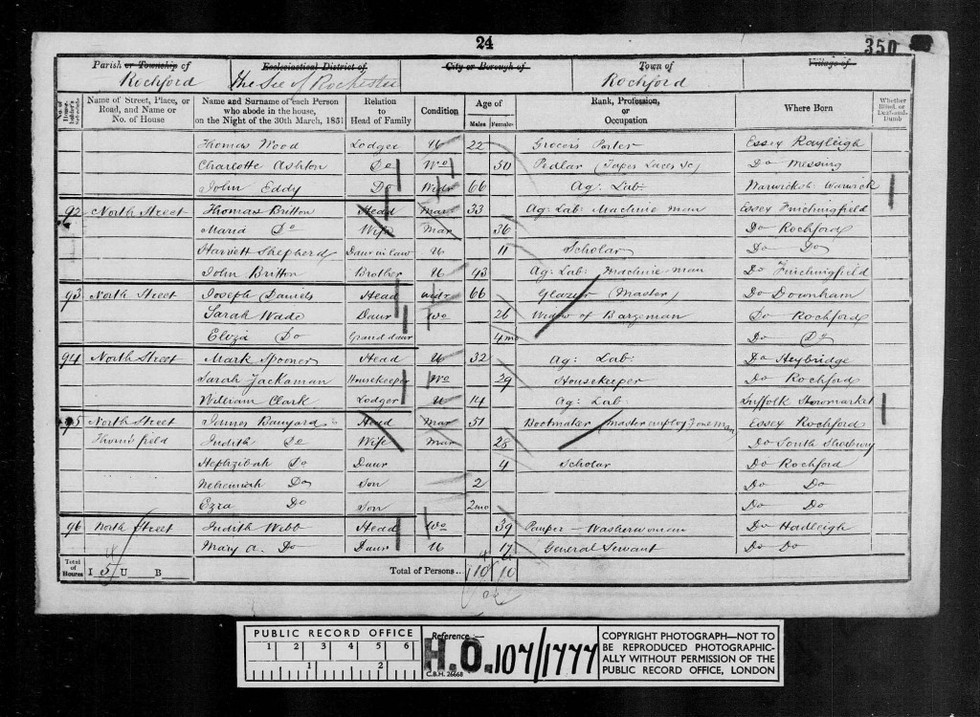 Banyard with his wife Susan and three children; Hephzibah, Nehemiah, and Ezra, in the 1851 census
As Banyard's congregation of 'Banyardites' steadily grew, so did his reputation. In the mid-19th century, Essex was an agricultural county with a naturally conservative population to whom Barnyard's puritanical brand of Christianity proved incredibly popular. By 1842, the Church had moved into a large house and was attracting quite a following. By 1852 the group was attracting followers from all over the county and had established branches in Kent and East London. Banyard realised that this was too much work for one man and a constitution and hierarchy, complete with bishops, elders, and saints, was established. They chose the name the 'Peculiar People' from 1 Peter 2:9; "but ye are a chosen generation, a royal priesthood, an holy nation, a peculiar people; that ye should shew forth the praises of him who hath called you out of darkness into his marvellous light." At the height of the movement's popularity, the Peculiar's had 43 Chapels dotted across the South East.
Death in the church of the Peculiars
The Peculiar People practised a lively form of evangelical worship and followed a rigidly literal interpretation of the King James Bible. They practised faith healing and would not seek medical care in cases of sickness, instead relying on prayer as an act of faith. This frequently resulted in death and parents within the community were often put on trial following the deaths of their children.
Examples of such cases can be found in our Crime Prisons and Punishment records ,as well the recently released Southwark, St George the Martyr Mortuary Register 1880-1891 records.
In 1883, a charge of manslaughter was brought against a 27 year old Peculiar named Robert Cousins. Cousins was charged with the killing and slaying of his three year old son, Robert Percy Clement Cousins. The same charges were filed against him only four months later over the death of his daughter, 11 month old Alice Maria Cousins. In both cases he was found not guilty.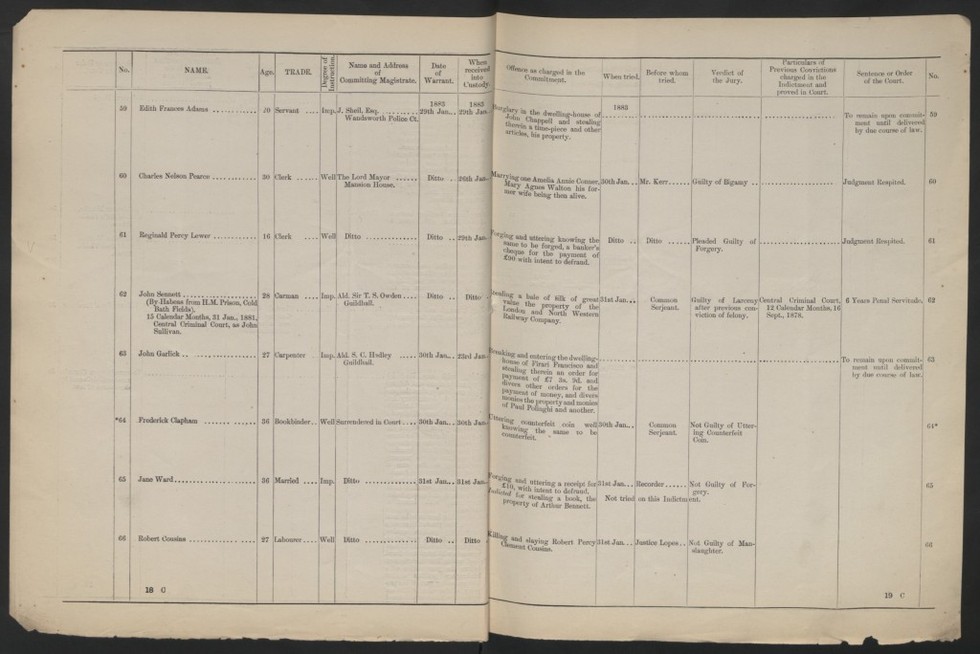 Robert Cousins charged with the killing and slaying of his son
The mortuary register holds the records for the deaths of both children. The records show that a coroner's inquest was held and the notes state manslaughter. This suggests that the coroner's jury found that these were cases of manslaughter which needed to be referred to the court. The newspapers reported that the children had been sickly and suffered from tuberculosis.
It appears that Banyard was actually less strict about this than his followers. When his own child became very ill, Banyard sent for a doctor despite his convictions. This meant that he was barred from becoming a Bishop within the church he founded and instead remained a regular preacher.
A change in the law
The first case in which a Peculiar was charged over the death of their child was in 1868, when Thomas and Mary Ann Wagstaffe were tried for manslaughter after the death of their 14 month old daughter, Louis. Louis suffered from inflammation of the lungs and, rather than seeking medical help, the Wagstaffes had her anointed and prayed to God for her recovery. They did try to help through dietary changes, although Louis eventually perished.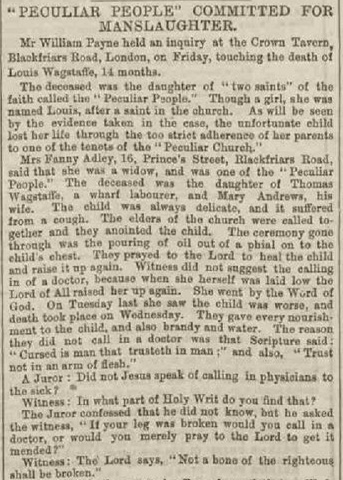 The Wagstaffe's trial covered by the Western Daily Press in 1868
During the subsequent trial, it was found that religious based medical neglect did not fit the charge of manslaughter. Changes were made to the Poor Law Amendment Act, to state that a parent was responsible for providing food, clothing and medical aid to a child or would be guilty of an offence. The first time the act was put into practice in the courts was in 1875, in the case of Queen v Downes. Robert Downes was found guilty of the manslaughter of his two-year-old son after he did not seek medical advice. However, this did not set a precedent and few Peculiar People were  charged by the courts for the death of their children.
The Peculiar People are divided
This began to change as concerns about Peculiars refusing medical care increased. A number of parents were imprisoned after a 1910 diphtheria outbreak in Essex, causing a split within the church between the 'Old Peculiars', who still rebuffed medicine, and the 'New Peculiars', who reluctantly accepted it. The split eventually ended in the 1930s after the New Peculiar's more modern stance prevailed.
A number Peculiar People were conscientious objectors during the first and second World Wars, believing as they still do that war is contrary to the teachings of Jesus Christ. In 1956 the Peculiar People merged with other evangelical groups to form the Union of Evangelical churches and fifteen of their Churches remain open to this day.
Were your ancestors Peculiar? Have a look in the recently released St George the Martyr Mortuary Register 1880-1891 records.
Start exploring your ancestors' story with a trial membership