Tips for Finding Your WWI Ancestors
Following our post on getting started with your World War 1 family history, we're taking a more detailed look at the specific record sets which can help you make those key discoveries.
Royal Navy
Findmypast has service records for officers and ratings (ie non-officers) who joined the Royal Navy between 1899 and 1919
Royal Navy records were not affected by enemy bombing in the Second World War. If your naval ancestor served in the Great War, you stand a good chance of finding him in the two series mentioned above
Although Royal Navy ratings did have service numbers, Royal Navy officers did not.
When searching for both officers and ratings, you can include a date of birth in your search
Remember to keep your searches simple to make sure you don't miss any ancestors
If your Royal Navy ancestor was killed in action or died whilst in service, you should be able to find him in our WW1 naval casualties collection
You may also find your Royal Naval ancestor on one of several medal rolls published by Findmypast
Subscribe to explore all our historic records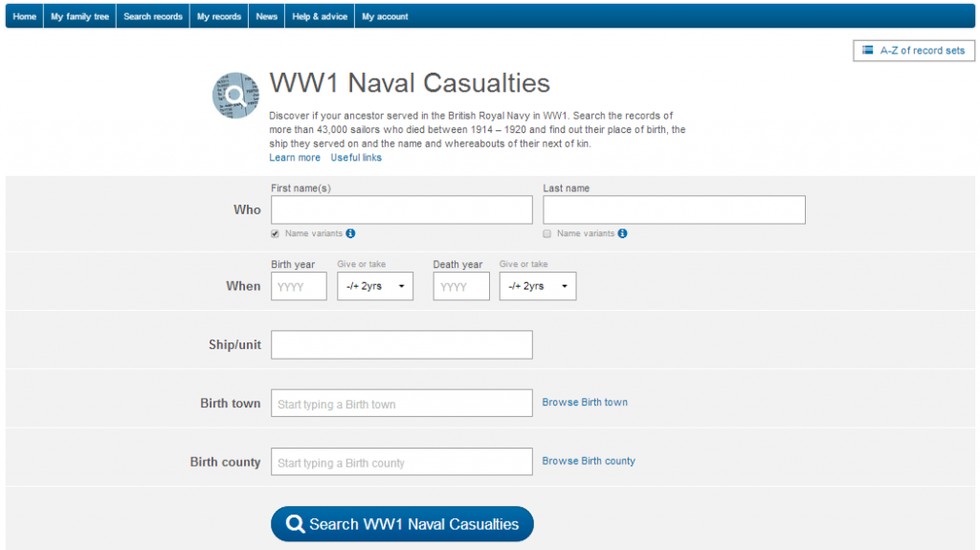 Royal Naval Division and Royal Marines

British Army
Findmypast has the most comprehensive online collection of British Army service and pension records for other ranks during the First World War
Around 60% of army service records were destroyed during enemy bombing in the Second World War. What remains has been comprehensively indexed by Findmypast
You can search over 4.2m British Army Service records on Findmypast. Note that these records are for other ranks only and for men who were discharged from the army before 1921
If your ancestor continued to serve in the army after 1921 then his records will still be with the Ministry of Defence
World War 1 officer records have not been digitised but the majority are accessible at The National Archives in Kew
Note that as well as the army service records for other ranks, Findmypast also has many other collections which can provide valuable information; from records like the Silver War Badge Roll 1914-1920, to regimental records for the Honourable Artillery Company, Royal Artillery and Tank Corps.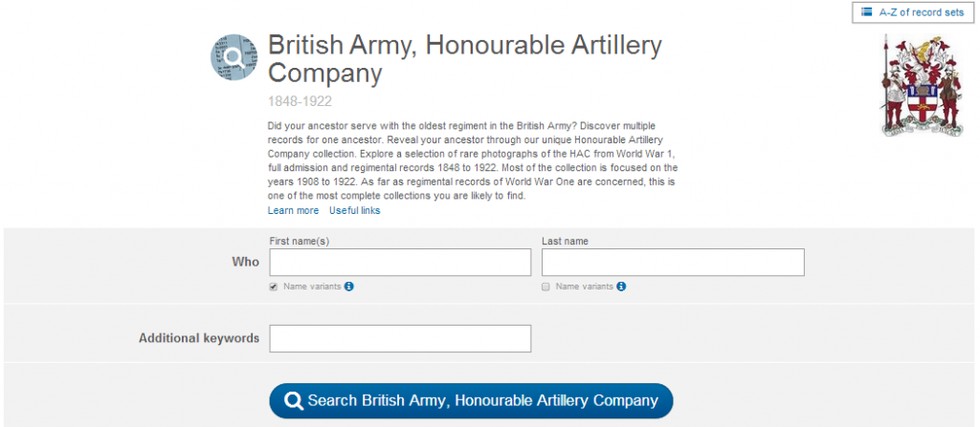 Royal Air Force
The Royal Air Force is well-represented on Findmypast with service records covering the period 1912-1920 (officers) and 1912-1939 (airmen)
There is also a muster roll of men who transferred from the Royal Flying Corps to the Royal Air Force in April 1918
Remember, that before the Royal Air Force was created in 1918, the Royal Flying Corps fell under the control of the British Army. Consequently it is possible to find airmen's records in the British Army Service records' collection on Findmypast