Famous family trees: Victoria Pendleton
Welcome to the fifth post in our series of blogs exploring the family trees of the famous. Experienced family historian, Roy Stockdill, takes us on a journey through time as he investigates the family history of the famous, both living and dead. This time, Roy researches Olympic cyclist Victoria Pendleton's family tree.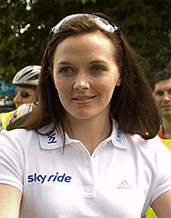 Victoria Pendleton (image courtesy of Wikipedia)
The world is coming to London for the Olympic Games and among the hot contenders to win a gold medal will surely be Britain's queen of the cycling velodrome, Victoria Pendleton MBE.
The 31-year-old cycling phenomenon says she began learning to ride a bicycle virtually as soon as she could walk. She was encouraged by her parents, both keen cyclists, and her dad Max Pendleton was a national grass track champion, a form of cycle racing not often seen these days.
Hailing from Stotfold, a small town in Bedfordshire almost on the county border with Hertfordshire, Victoria Louise Pendleton was born on 24 September 1980. Her parents, Max Pendleton and Pauline M Viney, were married in the Biggleswade registration district in 1970. Victoria has an older sister, Nicola Jane, and a twin brother, Alex James.
I traced Victoria's direct male line back to a marriage at Leicester in 1793 and discovered that her ancestors through several generations were all needle makers who worked in the stocking-making industry in Leicester and Nottingham, major centres of the trade.
Her father, Max, was born at Loughborough, Leicestershire in 1945, the son of Jack Marshall Pendleton and Irene E James who married in the Loughborough registration district in 1939. Jack M Pendleton (1914-1986), Victoria's grandfather, was the son of Percy William Pendleton and Mary A Marshall who married at Nottingham in 1913.
I found Victoria's great-grandfather, Percy William Pendleton, in the 1911 census living with his parents at 41 St James Street, Nottingham: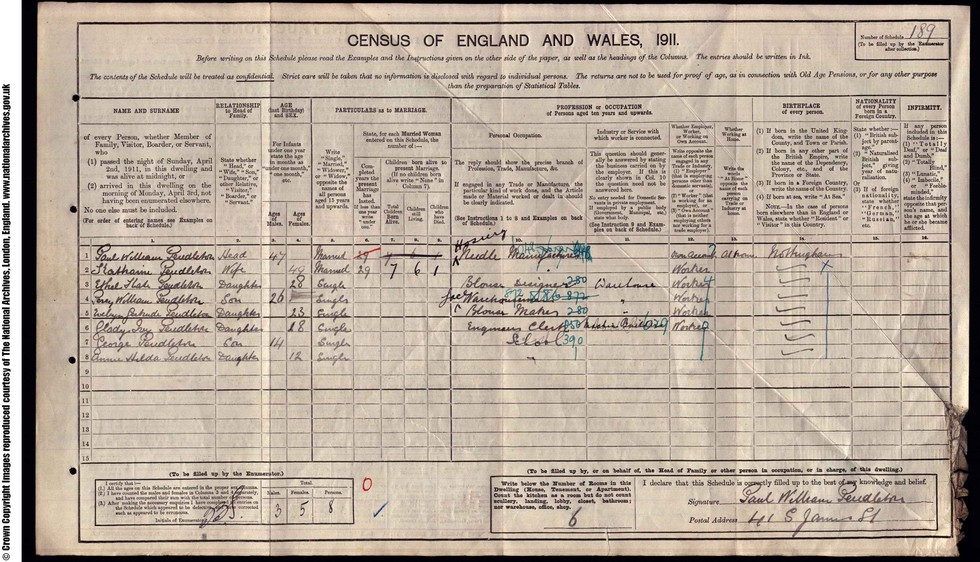 Click to enlarge
Percy was then 26, a lace warehouseman and unmarried, born at Nottingham in about 1885. I found his birth registered in the August-September quarter of 1884.
Percy's parents – Victoria's great-great-grandparents – were Paul William Pendleton, 47, a hosiery needle manufacturer working from home on his own account, and his wife Katherine, 49, both born at Nottingham. They had been married for 29 years and had seven children, six of whom were alive and all still living at home in 1911.
Percy is also found with his parents in Nottingham in the censuses of 1901 and 1891: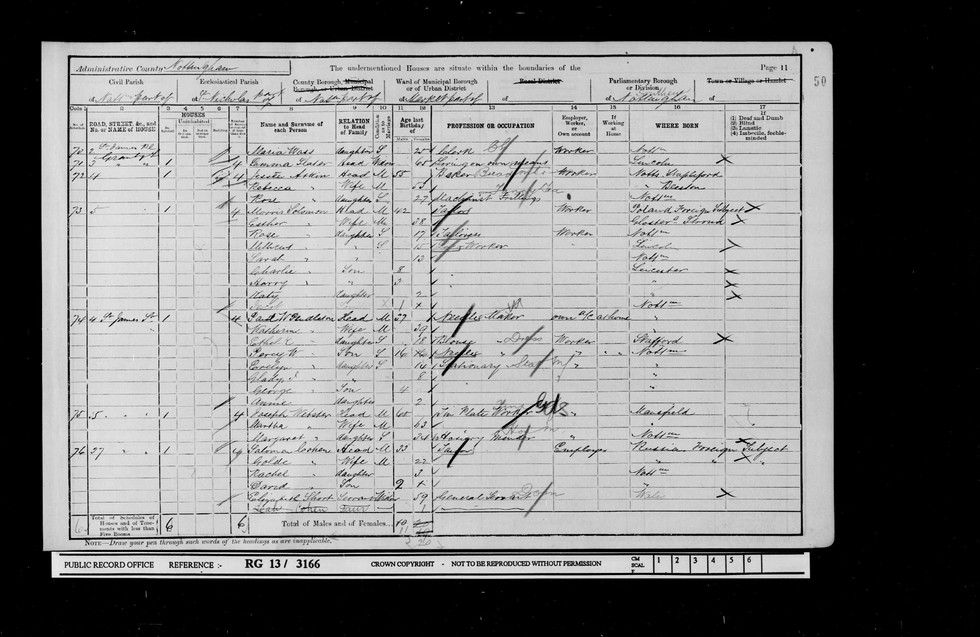 Click to enlarge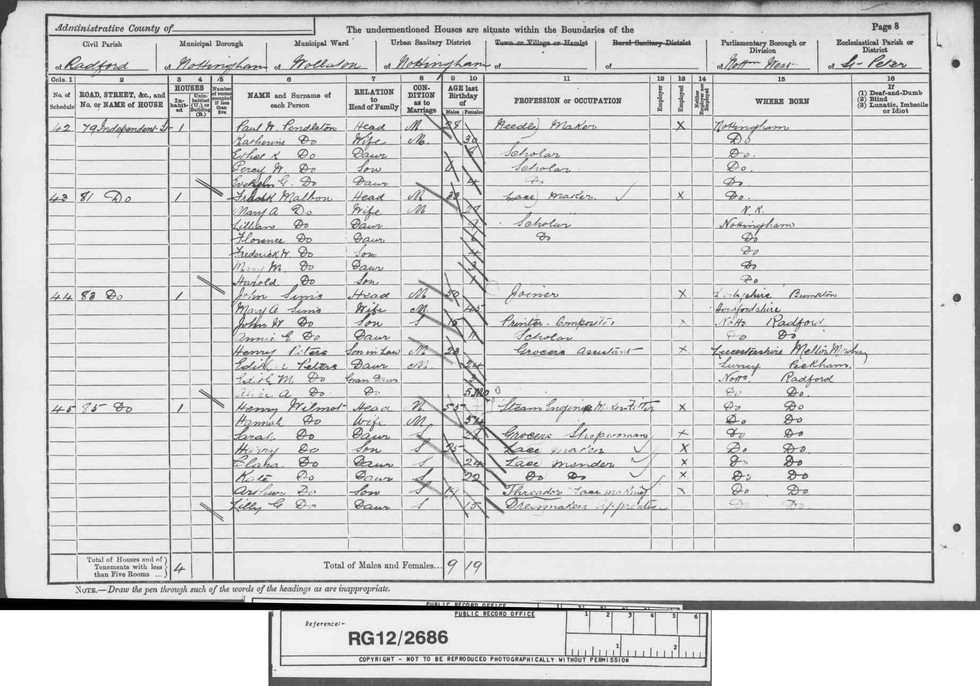 Click to enlarge
In 1891 Paul Pendleton was said to be employed but by 1901 he had become a needle maker on his account working at home, so presumably he had become self employed.
Searching the marriage records on findmypast.co.uk, I found that Paul Pendleton married Katherine Needham at Nottingham (confirmed by other sources) in the July-September quarter of 1882. Next I looked for Paul in the 1881 census and found him with his parents, Thomas and Sarah Ann Pendleton, at 41 St James Street, Nottingham: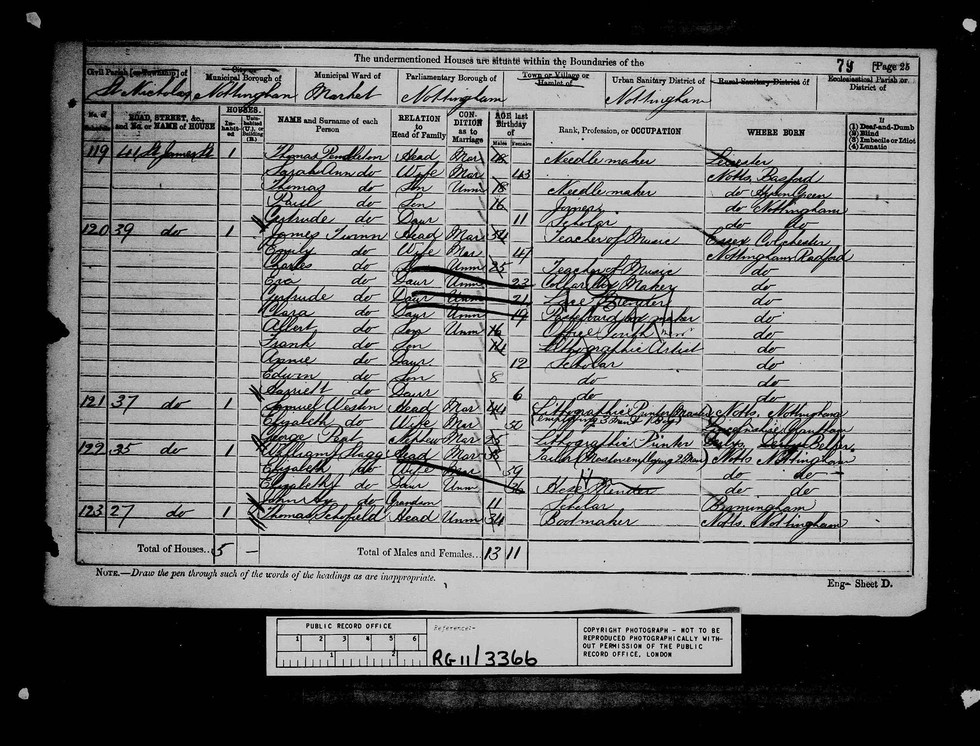 Click to enlarge
This was the address where Paul and his wife Katherine were living 30 years later in the 1911 census, so he must have inherited his parents' house. In 1891 and 1901 they were at different addresses.
Paul was born in 1864 and in 1881 was 16 and working as a joiner. His father Thomas was a needle maker, as was Paul's elder brother, also Thomas, aged 18. Thomas Pendleton Snr was aged 48 in 1881 and his birth place was given as Leicester in 1833. I discovered, again from the marriage records, that Thomas' wife was Sarah Ann Charlton, who was born at Basford, Nottinghamshire in 1838. They married in Nottingham in 1859.
In the 1871 census, the Pendleton family were living at Parliament Terrace, Wollaton Street, Nottingham with Paul William, then aged six: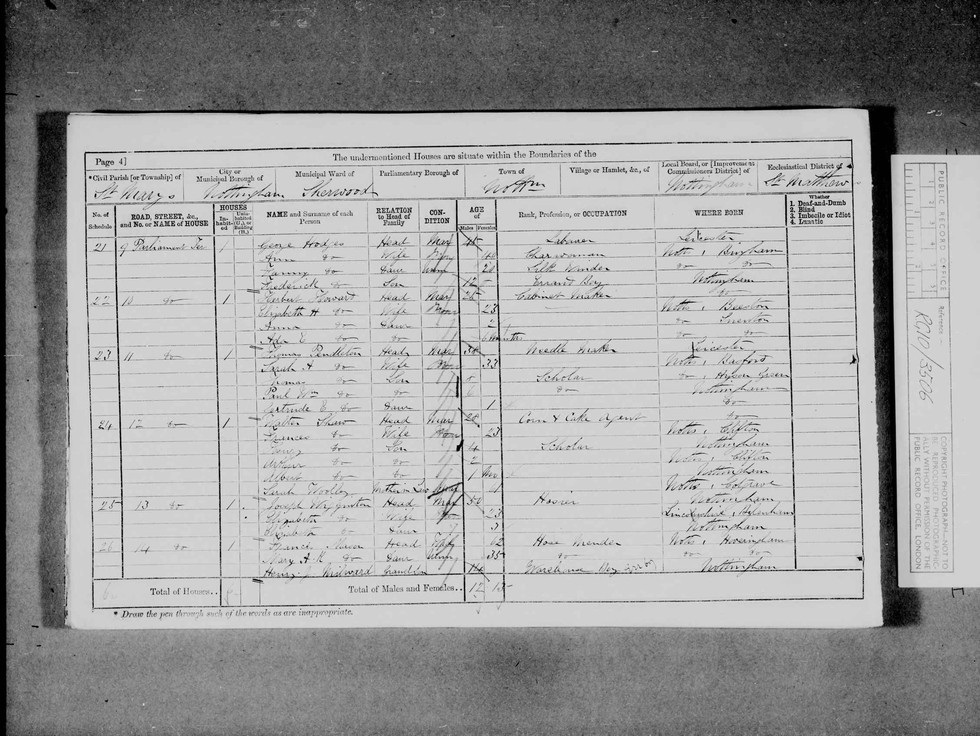 Click to enlarge
In 1861 Thomas and Sarah Ann – Victoria Pendleton's 3x-great-grandparents – had been married for less than two years and their first child was still to be born. In that census they were in Ortzen Street, St Mary, Nottingham. Thomas' widowed mother, Elizabeth Pendleton, 64, born at Leicester in 1797, was living with them, as was an uncle of Thomas', Mathew Pendleton, 52, a whitesmith, born at Leicester in 1809: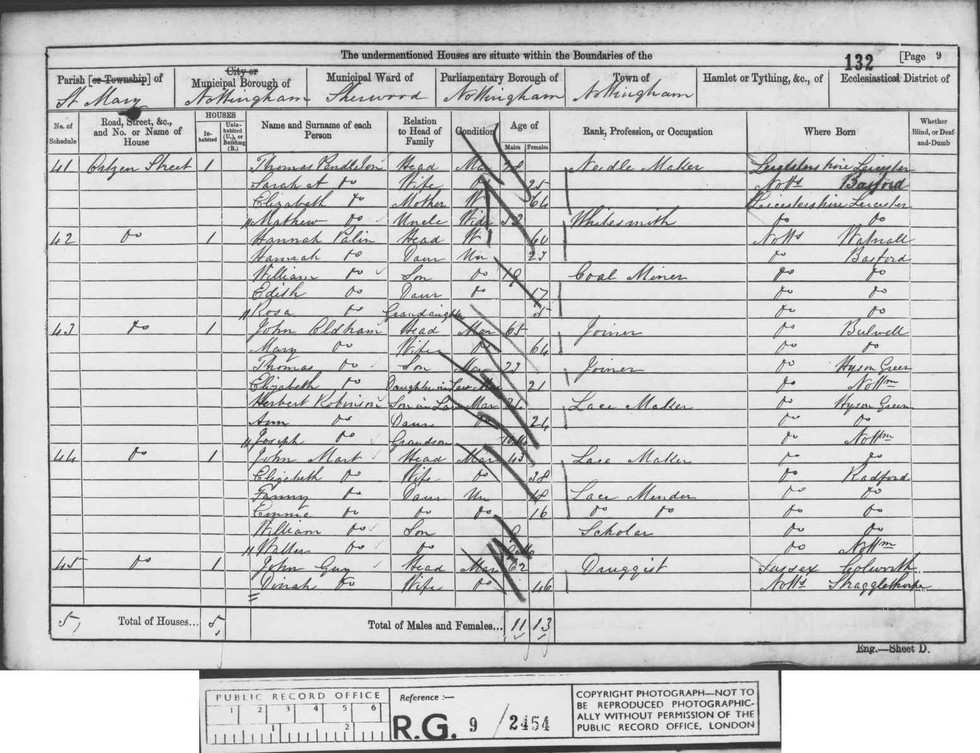 Click to enlarge
Thomas Pendleton died at Nottingham in 1889, aged 57, and, knowing that Thomas' birth place was consistently given as Leicester, I guessed he had probably moved to the other city sometime between the census of 1851 and his marriage in 1859.
Leicester and Nottingham were the major centres of the East Midlands hosiery industry and it seems there was considerable movement between the two places as workers strove to improve their lot. Nottinghamshire was a flashpoint of the Luddite disturbances in the early years of the 19th century when stocking frames were smashed by rioters supposedly led by the imaginary King Ludd. I couldn't help wondering if some of Victoria Pendleton's ancestors were among them.
To return to Thomas Pendleton, I looked for him in the 1851 census and, sure enough, found him with his parents, Paul and Elizabeth Pendleton, at 144 Wharf Street, St Margarets, Leicester, which confirmed my initial suspicion that he had moved to Nottingham sometime between that census and his marriage: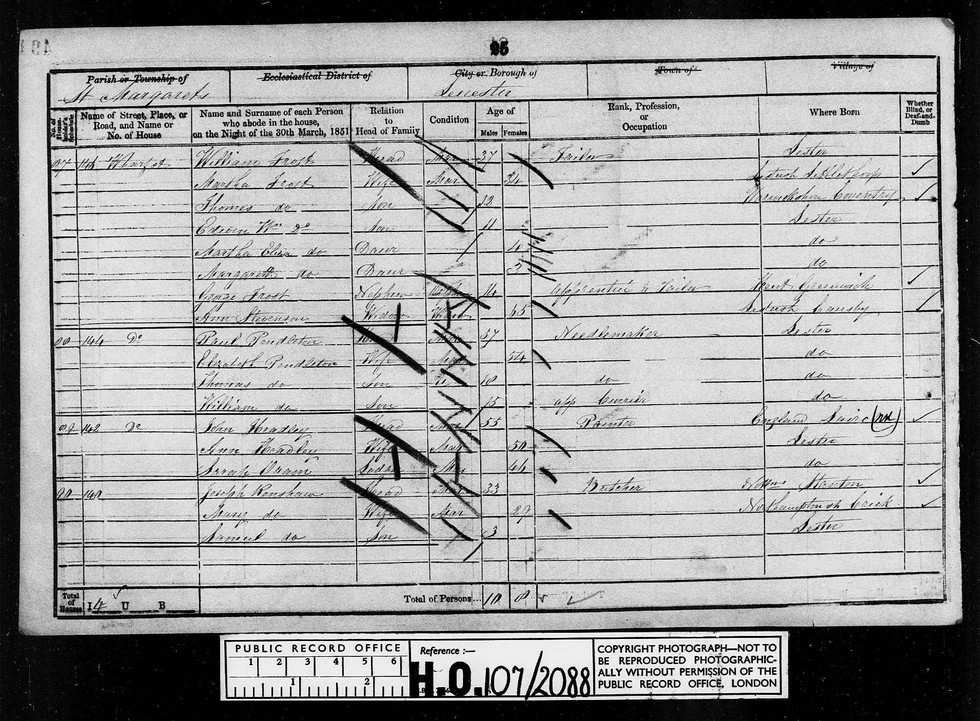 Click to enlarge
Thomas was then 18 and working as a needle maker like his father, Paul, who was aged 57, while Thomas' mother, Elizabeth Pendleton, was 54. There was also a younger son, William, 15, who was an apprentice currier (leather tanner). All were born in Leicester.
Ten years earlier in the 1841 census, the family were in Wharf Street, although whether at the same number I couldn't say. Thomas was aged eight and William five; however, there was also a daughter of 20 and another son of 15 in the household. It's possible that the ages of the latter two had been reduced as was the norm in 1841. The family are spread over two pages: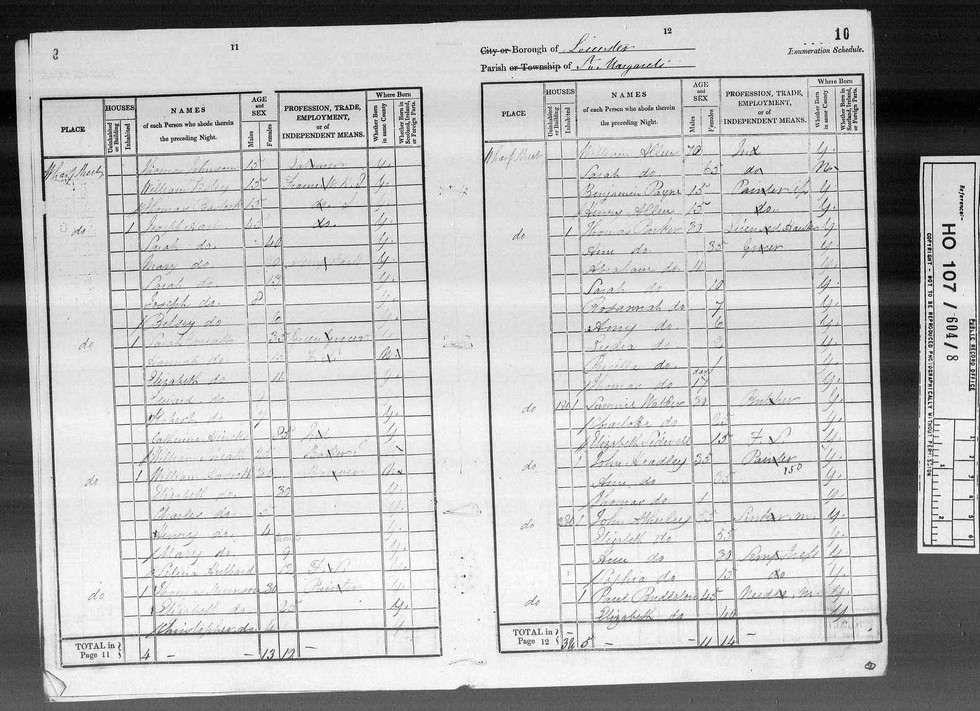 Click to enlarge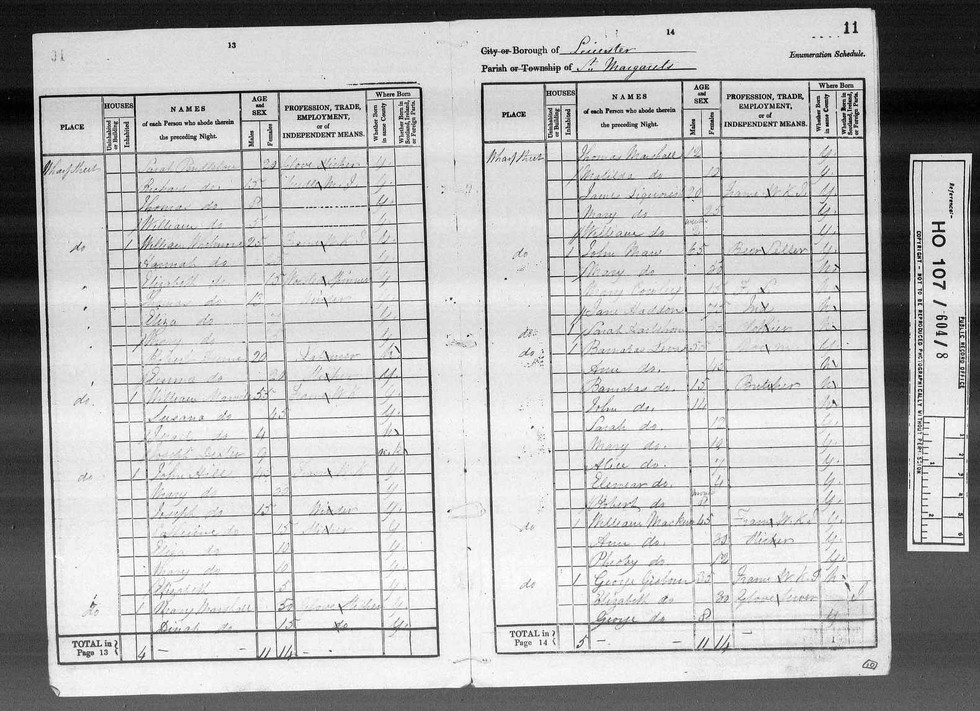 Click to enlarge
This Paul and Elizabeth Pendleton were the 4x-great-grandparents of Victoria Pendleton and I wondered if I could get the family still further back.
I found the likely marriage at St Margaret's, Leicester, on 15 September 1816 of Paul Pendleton and Elizabeth Hardy. That I had found the right one appeared to be confirmed when I discovered that this couple had had a large number of children – and buried several when only young – including a Robert Hardy Pendleton christened in 1828 who died in the following year.
The age of Paul Pendleton, 57, in the 1851 census suggests he was probably the Paul Pendleton who was christened at St Mary's, Leicester, on 14 January 1794, son of Richard Pendleton and Catherine March who were married at the same place on 28 January 1793.
If my research is accurate, then Richard and Catherine Pendleton were the 5x-great-grandparents of Victoria Pendleton. Both would have been born many years before the bicycle – or the velocipede – was invented.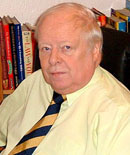 Roy Stockdill Wouldn't they have been amazed to know that their great-great-great-great-great-granddaughter would turn out to be one of the greatest female cycle champions in history?
Roy Stockdill has been a family historian for almost 40 years. A former national newspaper journalist, he edited the Journal of One-Name Studies (for the Guild of One-Name Studies) for 10 years. He is on the Board of Trustees of the Society of Genealogists and is commissioning editor of the 'My Ancestors…' series of books. He writes regularly for Family Tree magazine.