Ask the Photo-Detective: 'What is My Dressmaker Grandmother Wearing?'
Dress historian Jayne Shrimpton uses clues in your old family photos to reveal their hidden secrets. For a chance to have your photo featured, email your picture to photos@findmypast.co.uk along with all the background info you currently have
Kath Hopkinson submitted the above photograph of her grandmother. Here's her question, along with the background info she already knows
Kath Asks...
This photo is of my grandmother, Adèle Kate Curtis (née Graf). She was born in London in 1876, married in 1903 and died in 1948. She had three children between 1904 and 1909. After the 1911 census her husband went to Australia, where he later died. She was a dressmaker/needlewoman and all I know is during World War 2 she had a shop which was bombed. This is the only studio photo that I have of her. I was intrigued, so took a closer look at the image.
To me, the dress looks like a uniform, the brooch looks as if it could be a badge or emblem, and she seems to be holding a scroll or some other kind of paper. The photo is on a postcard, the studio is The Progress Studio, 242, New Kent Road, S.E. London, close to where she lived. The number 20742 is pencilled on the back. Thank you for taking time to look at this, I hope you can throw some light on it.
Jane Says...
Firstly, your mention that this photograph is presented on a postcard mount confirms a twentieth-century date, for the familiar postcard photograph, with separate spaces on the back for a postal address and a message (in case the card was to be posted), was introduced in 1902. Within a few years, by 1906/7, this new format was firmly established as the modern photographic choice and postcards went on to dominate portrait photography for many years, between the 1910s and 1940s.
I haven't seen a view of the back, so cannot comment on the style of this particular postcard (which can help with dating), but we can establish a firm time frame from the appearance of your ancestor.
Your grandmother has dressed smartly for her portrait in a good dark blouse and tailored skirt – garments that represent respectable, semi-formal daywear - not a uniform, as far as I can tell. The style of her blouse, rather narrow in fit and front-buttoning with a collar, looks to be typical of about 1914-1918. So, this photograph was taken during the First World War.

Another major clue supporting a wartime context is Adèle's badge, which you have already noticed. The image quality isn't very high, so I cannot read the wording, but the triangular shape indicates the special 'On War Service' badge, issued to many women engaged in urgent war work. You can read more about this distinctive metal triangular badge, issued by the Ministry of Munitions after conscription in 1916, on the Imperial War Museum's website.

It was proudly displayed in photographs, particularly by munitions factory workers ('munitionettes'), whether in or out of uniform, and its presence in this studio portrait provides an insight into what your grandmother was probably doing during the war.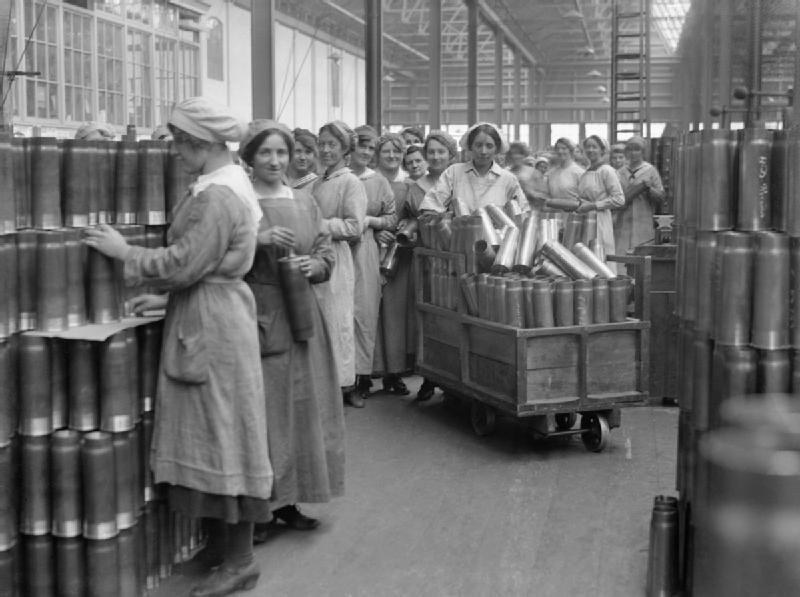 Munitionettes take a quick break to have their photograph taken
With a date of at least 1916, this photograph may have commemorated Adèle's receipt of her badge and that could also possibly explain the paperwork in her hand. Of course, born in 1876, your grandmother also celebrated her milestone 40 th birthday in 1916, so this may have been another – or perhaps the main - occasion connected to the photograph. Either way, this image shows a fine, capable woman evidently estranged from her husband (but still wearing a wedding ring), with three young children to support and her own business to run, yet who somehow managed to serve her country too, by working in a dangerous and vital job during the First World War.