Chasing Davies: How I broke down my 10 year brick wall
This story was sent in by Findmypast user John Royston Davies:
I started on my family history after my American cousins asked me about it. There were thirteen children in their father's family - seven girls and six boys. The family name was Davies and two of the family married another Davies. My father was one of them.
I was born in 1936, ten years after the youngest of my other three brothers. When war was announced I was sent to live with my uncle back in Ystrad Rhondda where I lived for three years. I was well looked after as I had plenty of family to look after me.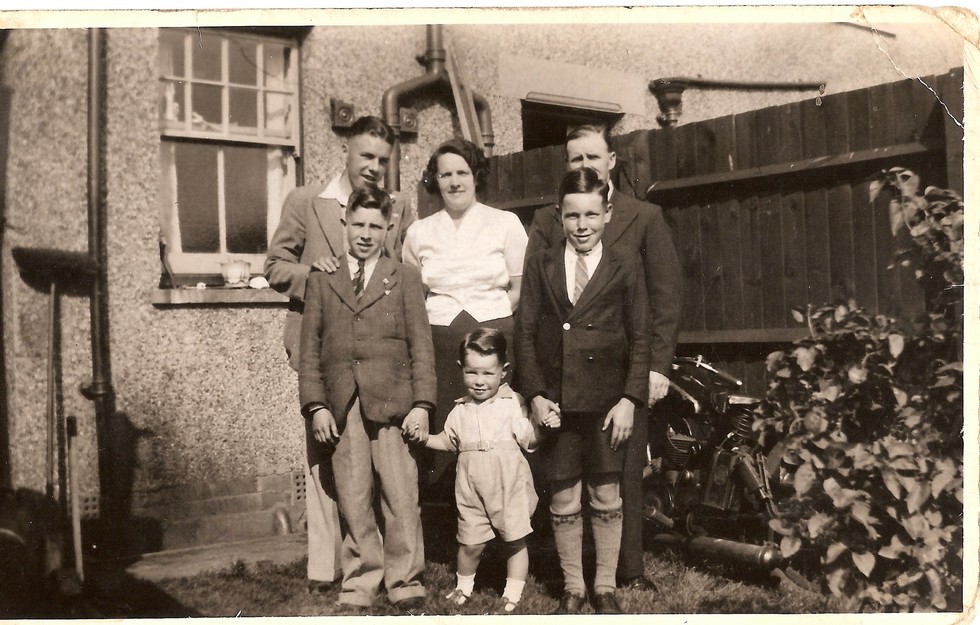 My family, about 1938. I'm the baby in the photo. My three other brothers are 16, 12 and 10 years older than me.
My uncle worked for my grandfather selling fish off a hand cart. He was known as "Jim fish". I can remember my grandmother having three or four tin baths full of shellfish soaking in the back yard. I knew all the aunts and uncles on my father's side of the family, so I was well placed to research the immediate relatives. It was when I tried to go further back with the family that I hit too many brick walls.

I sent for my grandfather's birth certificate from 1862, his father was John Davies and his mother Sarah Brown. I spent ten years searching for a marriage certificate for them without success. I also found out that Sarah Brown was a widow of James Woodward so the search went on for Sarah Woodward, but still no success until now.
Findmypast has made it easier to trace marriages by pairing up people and doing name variants on the surname. I came up with the misspelling of Sarah Woodward as Sarah Woodwork, giving me the right certificate that I had spent years trying to find.
I came up with the misspelling of Woodward as Woodwork, giving me the certificate that I had spent years trying to find
Sarah was twelve years older than John with three children from her first marriage. On the 1871 census her children were all named Davies but on the 1881 census two of them had married and reverted back to Woodward. Sarah and John had five children from 1862-1868 but did not marry until 1870.
Not having the marriage certificate made tracing John Davies's parents very difficult as there were so many John Davies born about 1840 in Aberdare. I went down many roads trying to find the right one and must admit I got it wrong time and time again. Knowing the name of his father has now narrowed the field. I have also learned that where it says he was born is not necessarily true. It's most likely where he remembers living as a child.
Search 8 billion records instantly
My mother's line is even more complicated. Her parents were Owen Davies and Matilda Southway. Going back along the Davies line I had very little trouble going back to great-great-grandfather David Davies born in Caronisllaw, Cardigan in 1833. The marriage for Matilda was easy to find but her birth was not so easy.
Going back ten years, the only census that was freely available was the 1881 census. I found the family on that and it gave her parents as Daniel and Elizabeth Southway, a very unusual name so you would think it would be no trouble at all. But what a headache that turned out to be.
Southway: A very unusual name so you would think it would be no trouble at all. What a headache that turned out to be
Daniel Southway was an illegitimate child of Hannah Eades. On the 1881 census it said he was born in Aberdare but in fact he was born in Bath in September 1846. He still had his mother's surname, misspelt as "Edds". His mother married James Southway in 1852.
Daniel Eades married Elizabeth Ann Tucker on Christmas Day 1872 and registered all of his children as Eades. Then around 1880 he changed all the family names over to Southway. This included my grandmother Matilda, which explained why I could not find her birth certificate.
Start building your tree today
Matilda married in 1894 under her new name Southway and not the name Eades that she was born and registered with. Daniel had two more children after changing his name to Southway, Alfred, born 1882, and Thomas, born 1885. Alfred was killed on 16th November 1916 at the battle of the Somme.
I now have three certificates for Daniel, all with different names for the same person. His birth certificate has Daniel Edds, his marriage certificate Daniel Eades and his death certificate Dan Southway. He was not an easy person to track down.
Would you like to share a story about a discovery you made in our records? Drop us a line at testimonials@findmypast.com
Explore expert tips and more stories from our records on our blog