Behind the scenes of Find My Past the TV show: the researcher
Megan Cherie Owens is one of the expert researchers who traced the participants' ancestors on Find My Past the TV show. We've been talking to Megan to get the inside knowledge of what it was like to be involved with the show.
FMP: What was your role in the series? How did you do this?
Megan: I did the in-house genealogy research. The production team looked into the stories and main protagonists and fed names to an outside researcher who worked on the genealogy and produced reports to show any living descendants. In some cases there were dozens of possible contact details for one name!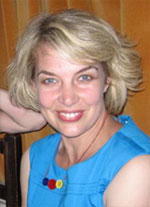 If we needed a quick turnaround I did the research on the spot and, in some cases, wrote a letter to a potential contributor within a few hours. If there were no obvious descendants, we widened the net to other protagonists and I then researched the names to see if they went on to have descendants.
Unfortunately some of our protagonists died without having children (e.g., Titanic, Suffragettes, Firing Squad) so we went back one generation or more and then forward, to find nephews and nieces. We sent letters out and I then took most of the phone calls from all the curious respondents!
I found out whether they were the right person, whether they were interested in their family history and whether they knew anything about their ancestor's role in the events. I also chatted to them about the series in general, and whether they would consider going on camera! I then summarised all of this for the directors.
FMP: What was the most difficult thing you faced?
Megan: Confirming that the genealogies were correct and that people were from the correct families - especially where there were several possible marriages and children with similar names!
FMP: What was your favourite moment?
Megan: I loved working as part of this team - really great people, all with an interest in telling a good yarn! I also found it a real buzz to talk with potential contributors about their lives and family history but without letting on too much about the events we were looking into.
FMP: How do you think this series compares with other family history programmes, such as Who Do You Think You Are?
Megan: I love Who Do You Think You Are? This is working the opposite way - starting from the event and coming forward - so it really could be absolutely anyone who ends up onscreen. No celebrity status required!
FMP: What was it like contacting potential participants and how did they react?
Megan: We mostly wrote to potential contributors, although we did make a few calls and left a message or two. One lady called me back at 10pm on a Saturday, straight after she got back from holiday - she was intrigued and wanted to discover what it was all about! Some people were more reticent but almost all were fascinated by the news that they were somehow connected to a significant historical event.
Megan's background: I'm originally from New Zealand, where I was taught genealogy as a teenager by a teacher who was an ex-president of the NZ Society of Genealogists. My own ancestry is mostly English and Irish, with a Scottish strand and a strong Cornish element. My 'favourite' ancestor is a young man who was convicted of petty theft and transported to Australia in the 1840s. He must've been an okay guy as one of his sons, most of his siblings, and even his parents followed him out there! My academic background is in social science, and I've worked in TV, universities, oral history research, the 1911 census, and as a professional singer and theatre performer. My kids are impressed that I've been working in the production company that makes 'Horrible Histories'.