Ask the photo expert - portrait of great-grandparents?
Our photo dating expert, Jayne Shrimpton, analyses your family photos.
Bryn Town sent us his photo and asked:
'Please can you help me with this photograph? It was found in my late mother's papers after her death. No identification was found with it. I suspect (without a great deal of reason, apart from wishful thinking) that it represents my great-grandparents, James Barber, 1849-1890, and his wife Emma Eliza (née Mills), 1846-1894. Both were resident in Bermondsey, South London at the time of their deaths.'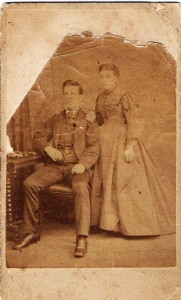 Click to enlarge
Jayne says:
'This photograph is a carte de visite, measuring around 10 x 6.5cms. First produced in Britain c.1859 and popular between 1860/61 and the early 1900s, cartes de visite dominated Victorian portrait photography and were still common in the Edwardian era. Millions survive in family collections today and individual examples have to be dated using a variety of photo-dating techniques.
Fortunately in this case, studio details are printed on the card mount. Consulting the searchable database of early London photographers reveals that your photographer, William New, operated from 143 Brompton Road, Knightsbridge, between April 1864 and 1878. This date range offers a rough guide for your photograph but other clues provide a much closer timeframe.
Firstly, the style of the design on the back is typical of the mid-late 1860s or early 1870s. We also notice the negative number of this photo written at the bottom: 7668. This is a low number, compared with the many thousands of photos that New is likely to have taken during his 14-year occupation of this studio, suggesting that your photograph was produced about 1-3 years after he established the business – c.1865-7.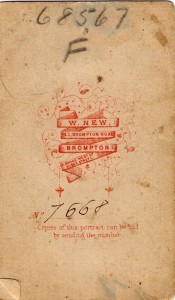 Click to enlarge
The image depicts a young couple who are fashionably dressed for their portrait, the appearance of the lady confirming beyond doubt the kind of period suggested by the above clues. She wears a smart, stylish day gown that that expresses the declining crinoline shape of the mid-late 1860s, the skirt flattening at the front, as seen here, and the fullness increasingly moving towards the back. This trend was evident between around 1865 and 1868 and, therefore, provides the timeframe for your photograph. The contrasting geometric trimmings on her bodice were a popular decorative feature at this time, while her hairstyle reflects the growing vogue for tresses to be drawn back off the face, the length dressed into a chignon behind the head.
Menswear cannot be dated precisely to within a few years, but the young man's lounge suit, knotted tie and hairstyle accord with a date in the later 1860s or 1870s. When a young couple posed together in the studio, one standing the other seated, very often the purpose was to record their marriage. Ordinary working folk did not have an elaborate 'white wedding' at this time, but simply wore their best outfits and visited a nearby photographer after the ceremony.
You suggest that these ancestors may be your great-grandparents, James Barber (b.1849) and Emma Mills (b.1846). I cannot see a ring clearly in this scan, but a narrow band may be present on her third finger; either way, this is not a reason to rule out a possible wedding photograph.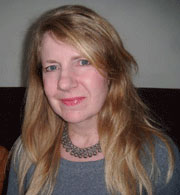 Jayne Shrimpton
If they married when young and if the year of their wedding falls between around 1865 and 1868, then you may well have a perfect match for the subjects of this photograph.'
If you'd like to send your photo to Jayne, please register or opt to receive newsletters in 'my account'. Jayne only has time to analyse two photos each month, but if yours wasn't chosen this time, you could be lucky next month!