12 Amazing Discoveries Made Possible by the 1939 Register
We received some incredible feedback about the discoveries you made with the 1939 Register...
These are a few of our favourites.
The Ancestor Who Went Missing for 47 Years
For some years now I've been trying to unearth further details about my ancestor Mary Jane Thompson (nee Cornford) who was last heard of when she married at Canterbury, Kent in December 1892. Unfortunately, she is not to be found in either the 1901 or the 1911 censuses (I'm fairly certain she had an unhappy marriage, and most probably provided totally fictitious details about herself to each census, meaning that she may never be able to be traced within these two documents).
I'm fairly certain she had a most unhappy marriage, and most probably provided totally fictitious details about herself to each census.

I'd had no success whatsoever in finding a death registration for her, and neither did it appear she had remarried, although I could never be certain about any remarriage. She appeared to be missing from every piece of documentary evidence after her marriage in 1892, although I thought it possible that she might, hopefully, re-appear in the 1939 Register when published. In anticipation of this event I took the precaution of obtaining a copy of her birth certificate, which provided me with her exact date of birth (22 September 1869, in Canterbury).

She appeared to be missing from each and every piece of documentary evidence after her marriage in 1892
I was pleased and relieved, therefore, to easily locate her in the 1939 Register living in Margate MB, Kent in the Pellatt Household. Her marital status was widowed (her estranged husband Arthur Herbert Thompson had died in 1930, in London) and her occupation is listed as General Maid, similar to her pre-marriage entry in the 1891 census at Patrixbourne, Kent. Although I have still to locate a death registration for Mary Jane (and nothing appears to be immediately obvious at the moment) I'm thankful that she's finally reappeared in official records after her prolonged absence of 47 years (1892-1939).
Finally, I should add that although Mary Jane appears to be absent in both the 1901 and 1911 censuses, her errant husband is certainly entered in them both, recorded with a different 'wife' on each occasion!
- Peter Thompson
The Road Where I Lived as a Child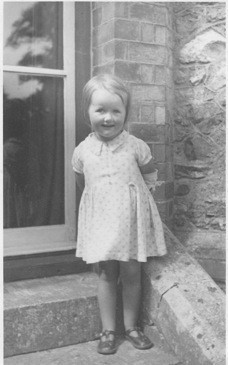 Christine Stephenson in 1939
1939 was a long, long time ago and I was very young. But I'm thrilled to have found the road where I lived as a child, and still remember many of the people who lived there. They all seemed very old to me then, but now I have the opportunity to learn a little about them and I'm astonished to see how young some of them actually were! The 1939 Register provides a unique snapshot of that time in my life, a way of revisiting my childhood, for which I am most grateful to Findmypast.

- Christine Stephenson
Mystery Mother
I was looking for my father's home before he was married in the East End of London, I knew he was married in 1940, and suspected he was living at home in 1939, but imagine my surprise when I found there were five people registered at that address, not the four I had expected, my dad, his brother and his parents, my grandparents. Also registered was my mother, under her maiden name. I can't understand why she would be registered there then, and there is no one left to answer the question for me. So I just have to guess at the answer. Intriguing.

- Michael Ward
Finding Granddad
I've spent years trying to find the birth record of my paternal grandfather. When I first started, I sent off for a birth certificate that I thought was his, but due to some discrepancies in the information I had, I was unable to be sure if I had the right one. When the 1911 census came out I could not find him at all, so I was frustrated further. Now in one attempt I found him on the 1939 register and the birth date confirms I have had the right birth certificate all along, 10 years after I started I can begin tracking down his family knowing I have the right line to follow. Thank you.

-Robin Hall
Over on Twitter, it's been amazing to hear about even more discoveries that have only been possible thanks to the 1939 Register. Keep them coming by tweeting using #1939Register to let us know what discoveries you've made.
@findmypast After years of searching I have finally found an elusive Uncle & 6 cousins I didn't know I had - all thanks to the 1939 register
— Barbara (@strebor11) November 14, 2015
Surprised to find 11 people sharing one house - my parents, another couple, 4 children inc me & my brother and 3 more, nanny etc! #eveofwar
— Karin Eldredge (@karineldredge) November 11, 2015
@findmypast - after yrs of fruitless searching, I found my needle in the haystack #1939Register - it had the 1 piece of info I was missing!
— Lori Kay (@lkay172) November 3, 2015
Located someone from #Aldeburgh in #1939Register who I've been searching for 20+ years - found them in #Portsmouth :-) #AncestryHour
— Aldeburgh=Amazing (@AldeburghPast) November 3, 2015
@findmypast I hadn't realised #1939register was a "maintained" document - my grandmother's name was amended when remarried in 1967
— Sarah (@tonksiew4) November 4, 2015
Looking for family on #eveofwar?#1939register designs have been released& I've found my grt grandparents, v moving! pic.twitter.com/qtnY1KPC71
— Rosie Lidington (@rosielidington) November 2, 2015
@findmypast Solved a mystery but sadly my Mum is no longer around to hear why she sent her Mum a postcard from #Quinton in Apr 39 #eveofwar
— Alison Sandford MacK (@Semiramis1952) November 3, 2015
I finally have info on my grandmother's parents thanks to @findmypast's 1939 Register. #EveOfWar pic.twitter.com/9iwkdok3hs
— Eirian Jones (@eirianmjones) November 3, 2015